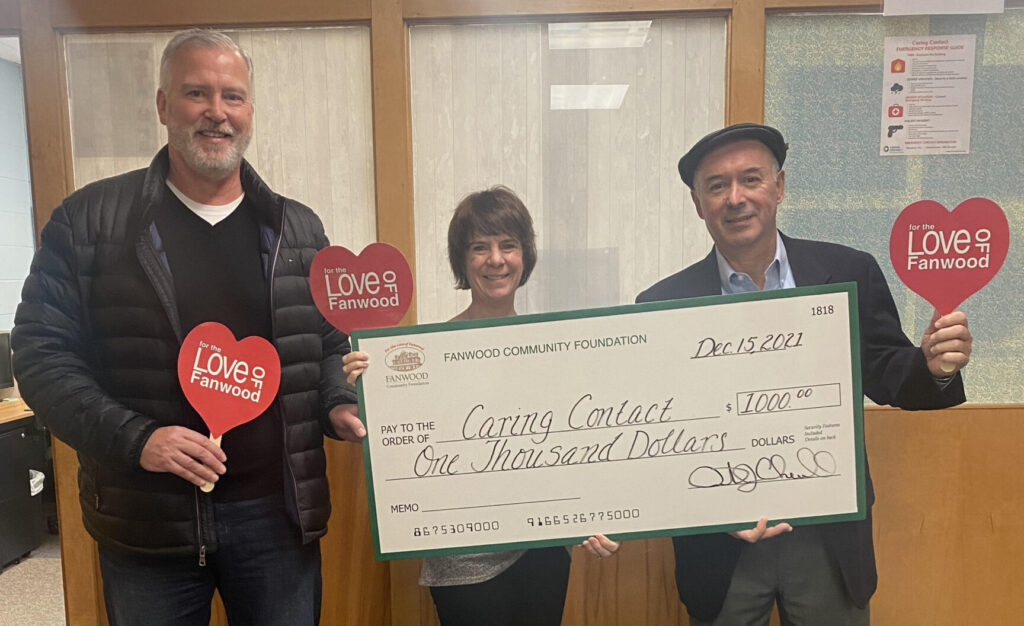 The Fanwood Community Foundation 
Peter J. Chemidlin, the President of the Board of Trustees of the Fanwood Community Foundation, and Neil Schembre presented a $1,000 grant to Caring Contact on December 15, 2021. The Fanwood Community Foundation was established in 1998 by Bob and Carol Kraus, Fred Chemidlin and Ted Frankenbach to better the Fanwood community and its citizens. Since its inception The Foundation has granted more than $10,000 in grants to Fanwood area organizations in need.  
"Answering more calls results in increased connection to individuals experiencing mental health crises," states Caring Contact's Executive Director Mary Claire Givelber. "This increased connection means fewer suicide attempts, a healthier population and fewer people ending up in the already strained health system as a result of a suicide attempt or an unchecked mental health crisis. Caring Contact is truly thankful for this donation from the Fanwood Community Foundation. Their generosity will ensure that Caring Contact has more trained listeners available to answer hotline calls, and that we will be able to quickly and effectively prioritize the needs of our most fragile callers, increasing the number of people who benefit from contacting us and reducing the incidence of suicide in New Jersey."
Caring Contact is an award-winning, volunteer-staffed caring and crisis hotline providing active listening support and best-in-class education to the Central and Northern New Jersey community. They attentively and compassionately serve those in emotional distress and educate communities about the power of personal connection. Caring Contact is affiliated with CONTACT USA, the National Suicide Prevention Lifeline and the American Association of Suicidology. If you, or someone you know, is in crisis and need someone to listen, call 800.273.8255. To learn more, visit www.caringcontact.org.