When:
February 23, 2020 @ 8:00 am – 12:00 pm
2020-02-23T08:00:00-05:00
2020-02-23T12:00:00-05:00
Where:
1916 Bartle Avenue
Scotch Plains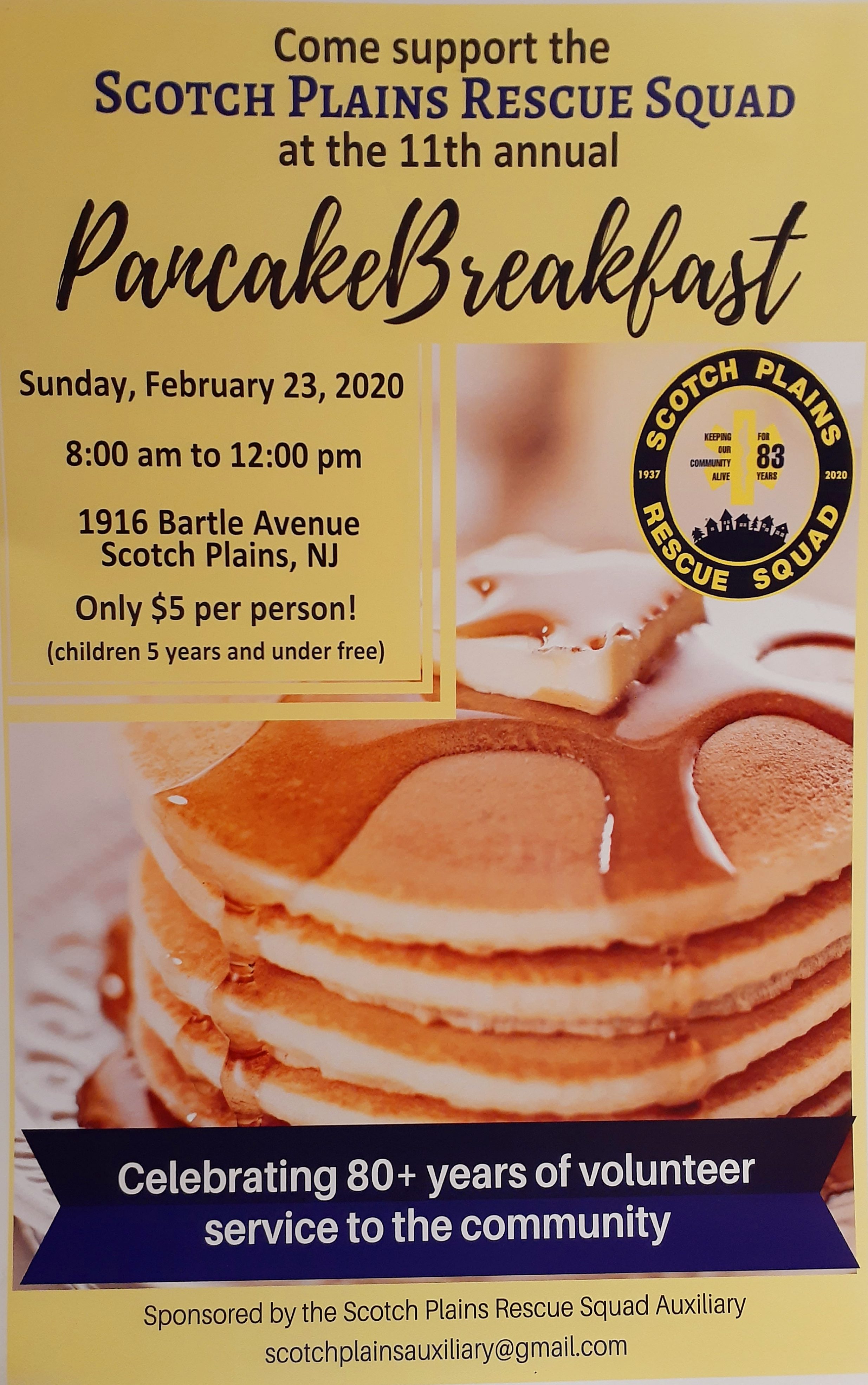 Scotch Plains Rescue Squad Pancake Breakfast
The Scotch Plains Rescue Squad will hold its annual Pancake Breakfast on Sunday, February 23, 2020 from 8:00 a.m. to 12:00 p.m. at its building located at 1916 Bartle Avenue. This event is hosted by the Scotch Plains Rescue Squad Auxiliary, which raises funds for the all-volunteer squad.
All-you-can-eat pancakes, coffee and sausages are offered for just a $5.00 per person entry fee, (children 5 and under eat free.) There is also a raffle for baskets, which are filled with gifts and goodies donated by the community and area businesses. This is the 10th year this event is being held, and it's clear by the number of people who attend that it's something the community looks forward to every year.
So, come out with your family and friends and enjoy a hearty, delicious breakfast along with good conversation. It's a nice way to spend a Sunday morning. And for those with mobility issues, downstairs dining will be available.
The Scotch Plains Rescue Squad relies on ongoing community support. These contributions enable the Squad to fulfill their motto, Neighbors Helping Neighbors – We Work For Pride Not Pay. The squad looks forward to continuing to faithfully serve those who call for help.
Check our Events Calendar for More Local Events