When:
April 11, 2019 @ 3:00 pm – 5:00 pm
2019-04-11T15:00:00-04:00
2019-04-11T17:00:00-04:00
Where:
Summit City Hall
512 Springfield Avenue
Contact:
Summit City Hall
(908) 273-6400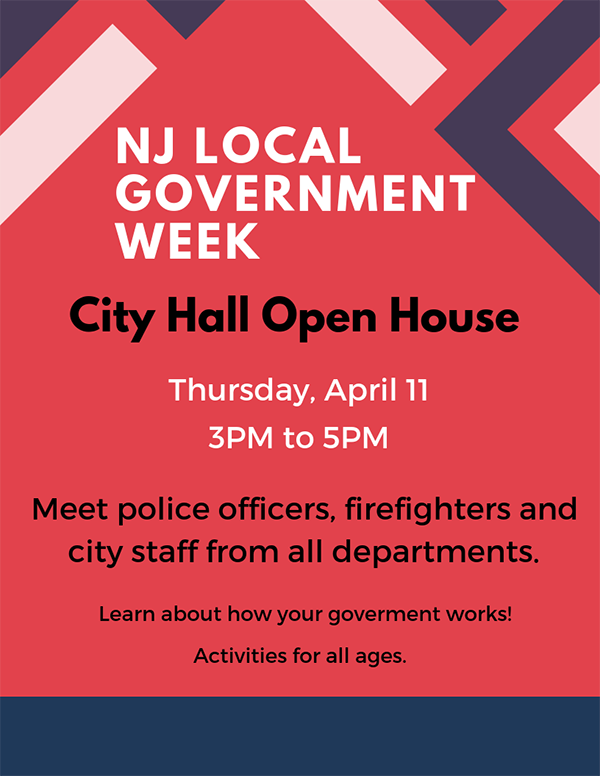 The City of Summit is hosting a community Open House at City Hall located at 512 Springfield Avenue on Thursday, April 11, 2019 from 3 – 5 p.m. as part of the inaugural New Jersey State League of Municipalities NJ Local Government Week. Summit joins municipalities from across the Garden State in the week-long celebration to raise awareness about the importance of local government and the role it plays in achieving the best life for communities.
"Because local government has the most direct daily impact upon its citizens, the development of an understanding of how local government operates, the services it provides, and the importance of active citizen involvement is essential," explains City Administrator Michael Rogers. "NJ Local Government Week is an opportunity to share this information and to generate more knowledgeable citizen participation in the future. I hope you will join us on April 11."
City staff and community volunteers will share information on municipal services, facilities, and equipment, as well as volunteer initiatives and opportunities. Tours of the Police Department at 3:30PM and the Fire Department at 4:30PM will be conducted. The Office of the City Clerk will lead a mock council meeting with Summit High School students assuming the role of elected officials at 4 p.m.
The Office of the Mayor is sponsoring an essay contest among eighth graders from Lawton C. Johnson Summit Middle School with the prompt: How my Local Government Impacts me and my Family. The selected student will be awarded honorary Mayor for the Day status on Thursday, April 11, 2019 and participate in the mock council meeting at 4 p.m.
Additional information on the City of Summit NJ Local Government Week Open House is available on the city website.