When:
September 14, 2019 @ 8:00 am – 1:00 pm
2019-09-14T08:00:00-04:00
2019-09-14T13:00:00-04:00
Where:
Chatham Borough Farmer's Market on Railroad Plaza
South off Fairmount Avenue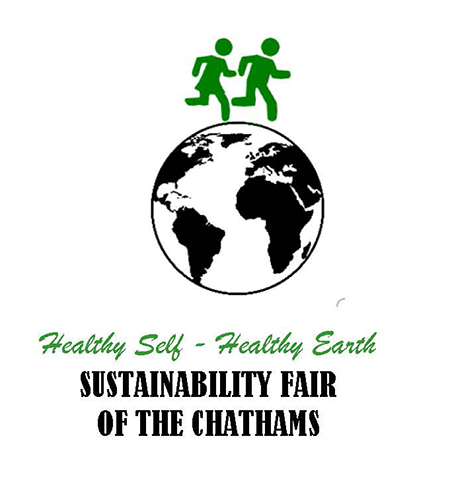 Sustainability Fair of the Chathams: Healthy Self/Healthy Earth 
Demonstrate Your Support for Sustainability in the Chathams
The annual Sustainability Fair of The Chathams will be held rain or shine on Saturday, September 14, 2019, from 8:00 a.m. to 1:00 p.m. hosted for the fifth year by the Chatham Borough Farmer's Market on Railroad Plaza South off Fairmount Avenue. Residents, family, friends and neighbors are encouraged to walk, rather than drive to the event where community organizations and local vendors will demonstrate sustainable products and share environmental behaviors designed for all ages to participate.
The Healthy Self Health Earth event grew out of the Mayor's Wellness Committee's (MWC) Health Fair and the Green Fair of the Environmental Commissions of the Chathams. The event continues to feature local health, wellness and environmentally focused organizations and vendors. This year, event exhibits will be thematically categorized into four display groups: Health & Wellness, Food and Waste Management, Community Development, and Environmental Stewardship. Look for color coded individual display booths within each category with sustainable missions and goals. Learn more about the Quiet Communities- a non-profit organization supporting efforts for quitter communities and cleaner air quality by committing to power source transition away from fossil-fuel based sources of electricity, important for our health and environment. Meet Quiet Communities NJ Representative, Julie Kolehouse-Diplas (Chatham resident) who's also serving as the Sustainably Fair Co-Chair. Sit behind the wheel of an electric vehicle which could also lead to an alternate fossil fuel transition. And, remember to Bring Your Own Bag and Bottle to the fair as you shop and enjoy lunch at the farmers' market, prompting simple steps toward sustainable best practices.
New this year, a sustainable prize drawing is designed to help spectators navigate the fair, identify each exhibiting vendor's sustainable practice and function, so choose to take your sustainable steps to make a healthful environmental difference. Follow along, complete, and submit the prize form at the fair, which will not only provide a random winning sustainable prize for some, but also provide best practice to demonstrate your support for sustainability in the Chathams.
At 11:00 am continue with the traditional group walk along the Urban Track (approximatley one mile). The Track was born from the idea that Chatham Borough from its easterly border along the sidewalks to its westerly border (at Madison) makes a perfect 3.3-mile track. On Saturday, September 14th from the Sustainability Fair, walking the west portion of Main Street's sidewalks will be led by TransOptions, . TransOptions a nonprofit transportation group organization that delivers programs and services that improve mobility, the environment, and the overall quality of life in northern NJ. TransOptions representatives Judy Bortman, Marketing Specialist; Jacqueline Leone, Community Outreach Coordinator, and originator of the Urban Track, Council Member Victoria Fife, will offer heart healthy and unique Chatham historical facts, with added Safe Walk Tips by TransOptions for all those wishing to increase their steps.
The Chathams, through the New Jersey Health Care Quality Institute, received The Healthy Town Designation under the auspice of the Mayors Wellness Advisory Committee of the Chathams, Chaired by Chatham resident Brian George. The Advisory Committee is excited to work with the community, Environmental Commissions and Green Teams to bring healthy and environmentally sustainable programs to the Chathams and neighboring community residents.
The Mayor's Wellness Committee of the Chathams, formed in 2009, is always looking for ways to keep our community in motion. Members realized our own downtown has continuous sidewalks throughout Borough's business district and beyond. "A simple safe place to promote walking for all ages, says Victoria Fife, Borough Council Liaison. This initiative could easily be duplicated statewide using existing resources to promote health and wellness." Stop by the MWC Booth to learn about alternate self-guided walks within the Borough!
"The Mayors' Wellness Committee of the Chathams has had tremendous volunteer committee support developing impactful programing like: Know Your Numbers, Volunteering is Healthy, and Chatham Chills with public awareness occurring at the Fishawack Festival, Farmers Market, Library seminars, and recorded video segments by local professionals. It's rewarding to witness the contributions of so many committee members willing to provide time and talent to make a positive community difference", states Chairman Brian George, MS, MBA, FACHE, RWJBarnabas Health. "I've personally and professionally have been delighted to work alongside such a dedicated group of professionals in their community enrichment quest."
MWC membership includes: Borough Council Liaison Victoria Fife, Joseph J. Murphy DC, Joseph Gonsalves Madison Area YMCA Senior Director of Healthy Living, Christian Esola Health & Wellness Director Madison Area YMCA, Victoria Stroker, Village Shop Rite of Chatham Registered Dietitian, Tom Salvas Chatham Township Representative and Videographer, Bridget Colendenski Public Health Nurse Westfield Regional Health Department, Cara Maksimow Maximize Wellness Counseling & Coaching, Janice Piccolo Director of Community Services; and associate MWC members: John Crouthamel Tri Town 55+ Chairman, Laura Sostak Executive Director of Tri Town 55+, and TransOptions Judy Bortman Marketing Specialist, Jacqueline Leone Community Outreach Coordinator and Lisa Leone Safe Routes to School Coordinator. To volunteer your talents, contact Janice R. Piccolo Director of Community Services jpiccolo@chathamborough.org or 973-635-0674 x200.
Check our Events Calendar for More Local Events