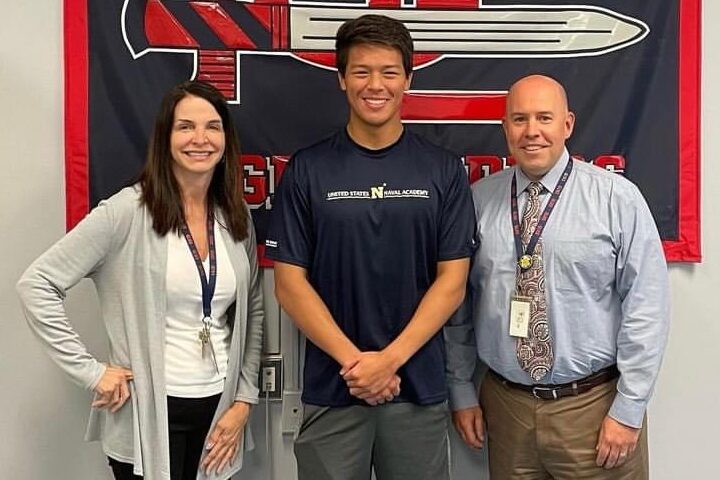 Ethan Wong, May Student of the Month
Berkeley Heights Public Schools
In an effort to showcase our students in BHPS who have excelled either in academics, leadership, community, or have shown excellent growth in any of those areas, the district is hosting a "Superintendent's Student of the Month". For May, Governor Livingston High School honors senior Ethan Wong.
Ethan is an accomplished student-athlete who has achieved much in his time at Governor Livingston High School. A member of National Honor Society, where he is the Vice President of Tutoring, Ethan is additionally a member of the Athletic Honor Society, as well as Science and French National Honor Societies. He is also a member of Interact Club and the Technology Student Association at GLHS. This past year, following his experience successfully applying to the United States Naval Academy, Ethan began the Service Academy Interest Club at GLHS in hopes of sharing information related to the benefits of attending a service academy, to share information about application requirements, and to develop a support system for future students who are interested in attending a service academy.
Ethan is a 2022 recipient of the Johns Hopkins Book Award for intellectual and moral aspiration, scholarly promise, and strength of character. This past year Ethan was appointed as GLHS' sole representative to the Junior Board of the Overlook Foundation where he met monthly with the team during the school year and personally raised over $1,000 for renovations to the Overlook Medical Center's maternity center. Ethan also attended the Mandarin Learning Center (Chinese Culture University) in July 2017, a 3-week Chinese study abroad program.
Ethan is a decorated swimmer and has been swimming competitively with the Summit YMCA Swim Team since 2013 and is currently their Senior Captain. At GLHS, Ethan is the Captain of the Varsity Swim Team and a 4-year Varsity Letter Winner. He is the 2023 Union Country Champion in the 100 Butterfly, and held the title of County Champion in the 100 Breaststroke in 2022. Ethan was a member of the Varsity Lacrosse Team for three seasons and is currently on the Varsity Track and Field Team. His passion for swimming has led him to offer countless hours as a Volunteer Coach for the 8 & under team at Summit YMCA Swim Team (Sept. 2021-Present). Ethan works in the summers as an Assistant Coach for the swim team at the Berkeley Heights Community Pool and as a lifeguard.
Ethan is proud of the hard work that led him to be a high achiever at GLHS, noting that it was not always easy and that he particularly found Calculus challenging at the beginning but that with hard work, extra help and diligence he succeeded.
Ethan looks forward to continuing his studies at the Naval Academy in Annapolis, Maryland where he will focus on quantitative economics.