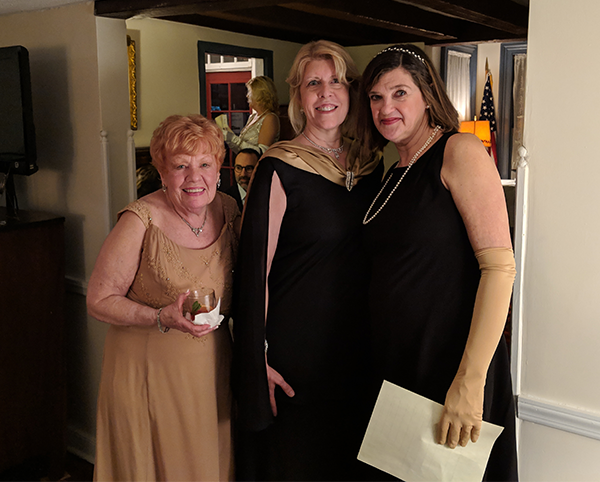 DOWNTON ABBEY COCKTAIL PARTY AT HETFIELD HOUSE WAS A JAZZ-FILLED HIT
During the recent Downton Abbey-Style Cocktail Party fund raiser for The Mountainside Restoration Committee at Mountainside's Deacon Andrew Hetfield House, guests were decked out in Downton Abbey attire and they all had a jazz filled great time.
Feet were tapping to the music of the John Bucher Trio. Music played throughout the night transforming the Hetfield House into a Downton Abbey Jazz Club – complete with cocktails and endless Downton Abbey inspired Appetizers and Desserts. John Bucher, a 25-year member of the Woody Allen Jazz Band, has performed at New York City's Michael's Pub. Bucher is acclaimed as one of the best Jazz Cornet players of his time. He has led the "Speakeasy Jazz Babes" who recorded the sound track of Woody Allen's 1973 movie, "Sleeper". More recently he has performed in the "Williams Reunion Jazz Band".
The event wouldn't have been such a success without the participation of the wonderful guests and great food and drink provided by Jeffrey Moran, Diane Kontra, Carol Goggi, Alice Cowell, Donna & Steve Klein, Sandy VanderMeer, Wendy Caccamo, Rachel Pater, Kathy McGlew, Ruthie Goense, Carol Clark, Scott Daniels, and Jim Toner. Beautiful flower arrangements were donated by Christoffers Flowers & Gifts; and Silent Auction items and Trivia Contest prizes were donated by Mountainside Restoration Committee Board Members, Ferraro's Restaurant of Westfield, The Rialto Theater of Westfield, Savory Spice Shop of Westfield, Alex & Ani of Westfield, Patricia & Paul Fine Oils of Westfield, Carol & Peter Goggi, Sandy VanderMeer and Diane & Jamie Kontra. Music was partially sponsored by Scott Daniels. This enjoyable event was a fund raiser for the Mountainside Restoration Committee with a portion of the proceeds going to the restoration and maintenance of the historic Hetfield and Levi Cory houses.
The Deacon Andrew Hetfield House and Levi Cory House are located at Constitution Plaza adjacent to the Mountainside Library. Constitution Plaza is the first right off Birch Hill Road which is off New Providence Road near the Mountainside Volunteer Fire House. The Mountainside Historic Restoration Committee is a committee of volunteers whose purpose is to restore and maintain the Deacon Andrew Hetfield House and the Levi Cory House and collect and save historic information and items from destruction. To donate funds, please call (908)789-9420; or, go to: www.mountainsidehistory.org