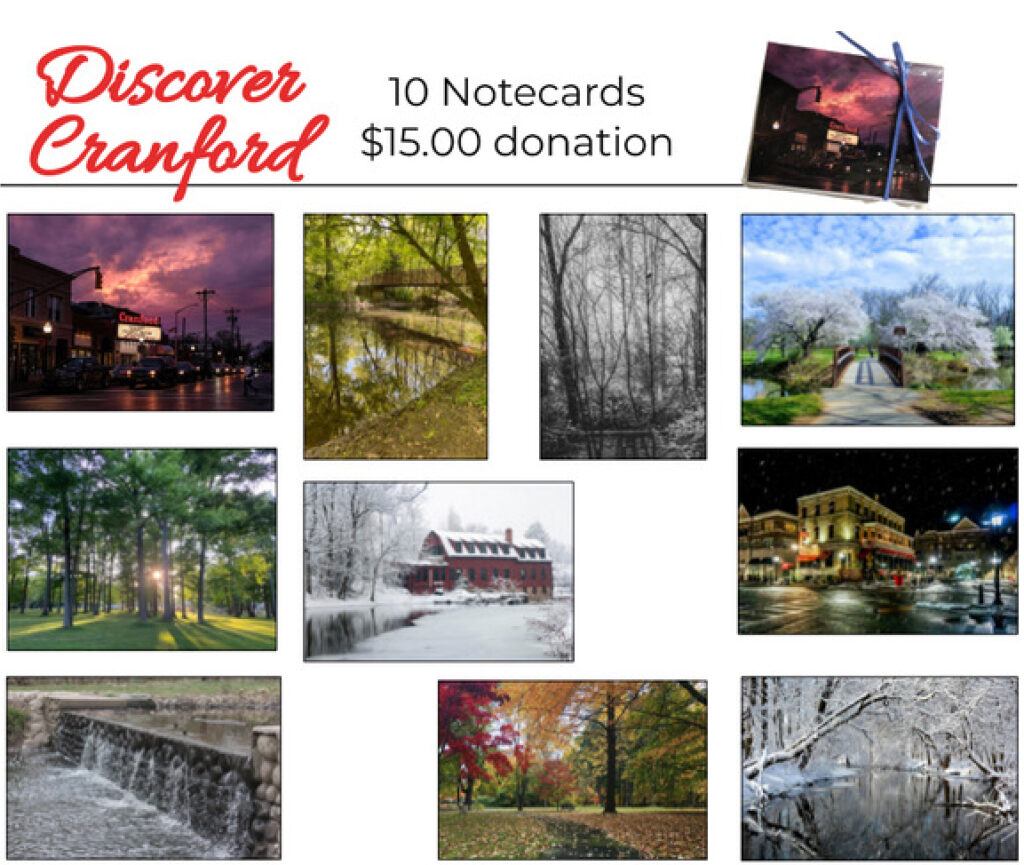 Discover Cranford Notecards
Need a lovely card to send for a birthday? A note to add to a gift? The perfect gift for a local friend? Then grab a pack or two of the Discover Cranford Notecards being sold by Project Home of Cranford. Each packet has 10 beautiful cards with different photos from places around town. The photos on the cards were submitted by local photographers to the Discover Cranford Photo Contest held by Project Home of Cranford. The winning photographs were selected by votes on social media. With so many amazing entries we at Project Home of Cranford were glad we did not have to select the winners!
The notecards are available for sale on the Project Home of Cranford website: projecthomeofcranford.org under the fundraiser tab. The note cards are $15 for a package of 10 and will be delivered locally for free. They are also available for sale at the following local stores: The Artist Framer, Augusta Mae, Cougar Headquarters, Periwinkles, Cake Artist Cafe and Delice Macarons.
The top 5 submissions won a framed copy of their entry, which were displayed in The Artist Framer's window. And the winners were: Cranford Hotel by Joe Manzella; Unami Park & Mohawk Bridge by Breona Pizzuta; Dam at Nomahegan by Sasha Paulyson; and Franklin Ave by Michael Alan Boyle. Other images used in the notecards include Nomahegan in Spring by Teri Kandel; Cranford Theater by Karl Schroder; the Bench at Hampton Park by Sylvia Martinez; and Droescher's Mill by Ryan Kirschner.
Thank you to all those who submitted photos! Project Home would also like to express our gratitude to The Artist Framer, who helped to make this contest so special.

For over 30 years Project Home of Cranford, a 501(c)3 charity has been working through Cranford Family Care to keep Cranford families in crisis in their homes. The funds raised by selling the notecards with the winning photos from the Discover Cranford Contest enable us to continue our mission of raising funds to support Cranford Family Care. To find out more about Project Home and our mission please email us at projecthomeofcranford@gmail.com visit us at https://www.projecthomeofcranford.org and Like us on Facebook https://www.facebook.com/ProjectHomeOfCranford