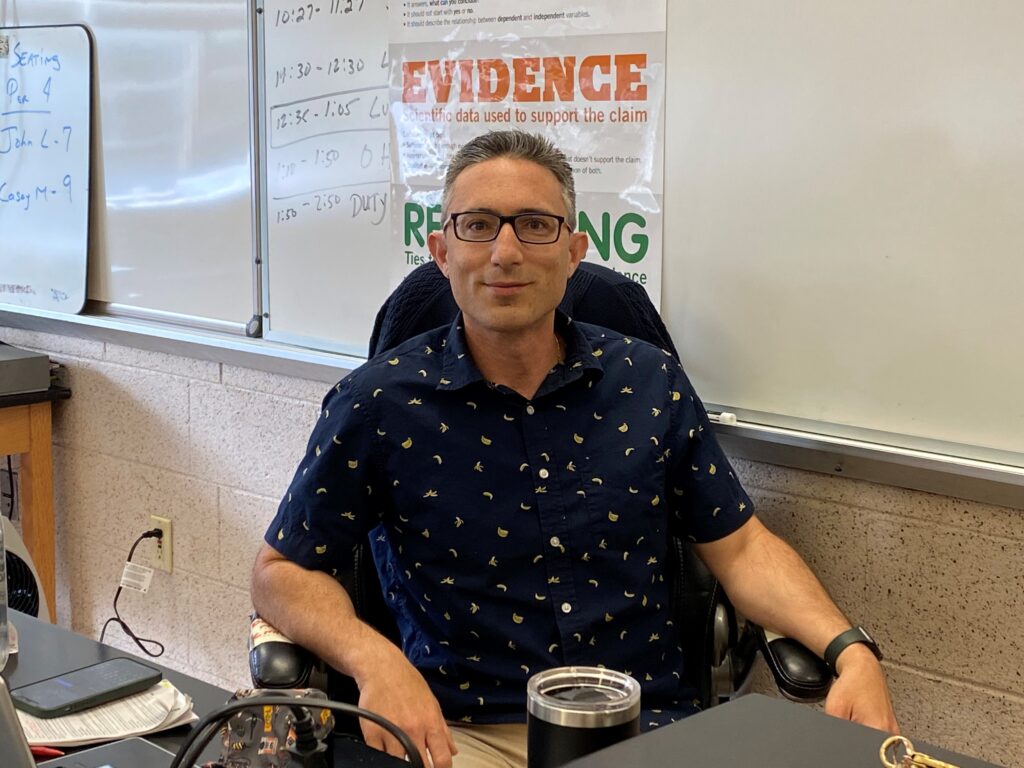 Dennis Dagounis 2020-21 NJ Governor's Educator of the Year
Submitted by Ellen Bachert
Science teacher, Dennis Dagounis, has been named The New Jersey Governor's Educator of the Year for Roselle Park High School. This program honors outstanding educators for their dedication to their students and the profession. Dennis has taught numerous courses, such as Biology, Advanced Placement Biology, Environmental Science and Earth Science during his 20-year career at Roselle Park High School.
"I am proud and grateful to have Dennis as a teacher at my school. He is a master of his content, a life-long learner, and a leader in our building and in our school community," stated Roselle Park High School Principal, Sarah Costa.
"Dennis continues to challenge himself to grow and succeed as a teacher to his students. As we transitioned to almost fully virtual learning, he has led the students to embrace this new technology and way of learning in such a way that his students found success. He then took those best practices and turn-keyed them as an instructional leader of colleagues," continued Costa.
Mr. Dagounis infuses Next Generation Science Standards and the Claim, Evidence and Reasoning (CER) Framework into his teaching in creative ways and is passionate about sharing his lessons with both colleagues and students. He integrates student-directed learning—always encouraging his students to think critically and creatively—and is a master at incorporating innovative technology into his lessons.
According to Costa, Dagounis is known at Roselle Park High School for his ability to keep his students moving, reacting, and engaged.
"I stopped by his classroom and observed his students reviewing pathology slides to identify cancer markers and then enthusiastically comparing and discussing their findings," recalled Costa. "Quite impressive for freshmen!"
When asked what he loved most about teaching, Dagounis stated, "I love trying to create a unique learning experience for the students that allows both the science and non-science minded students to be able to demonstrate their strengths—whether that is drawing, creating computer models, or demonstrating their passion for writing."
Dagounis traveled to Wenzhou, China during the spring of 2019 where he participated and presented on the NJ-China STEM Sister School Program for K-12 Partnership. This program is a collaboration between Kean University, Wenzhou-Kean University, and the Zhejiang Provincial Department of Education as a means to share information and ideas on STEM. Dagounis also accompanied his students to Kean after school to engage in research with university professors on topics such as biochemistry and cancer research.
Dagounis shares his talents outside the classroom just as freely as inside the classroom. He started the volleyball program at Roselle Park High School which is now a fully funded varsity and JV sport. Additionally, Dagounis organizes the annual Dig Pink Volleyball Fundraising event for the Roselle Park Community for the past four years, resulting in more than $1,000 annually in donations for breast cancer research. He has collaborated with other school clubs to collect toys for the annual Toys for Tots Campaign, served as a class advisor, and leads the Chess Club. Dagounis was also instrumental in bringing filtered water fountains to Roselle Park High School in an effort to reduce the use of plastic water bottles at the school.
"Dennis is a dedicated and remarkable educator worthy of this distinction," believes Costa.