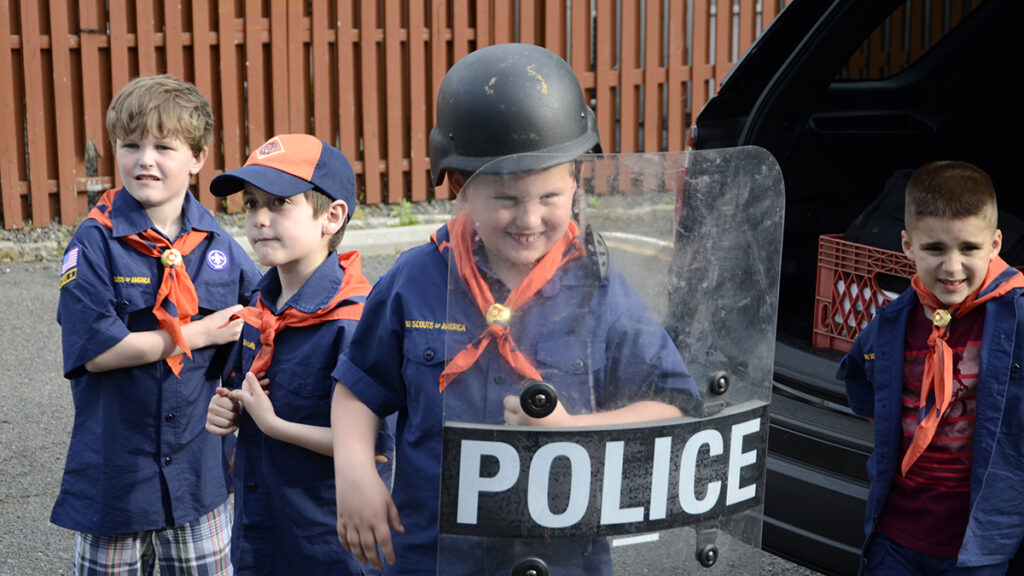 Cub Scouts Tour Fanwood PD
Borough of Fanwood
The Fanwood Police Department welcomed its first tour in a couple of years on May 5th, Cub Scouts from Den 4, first graders from McGinn and Coles Elementary schools and some of their parents.
The Scouts got a guided tour of a police vehicle by Officer Sean Hoffman who demonstrated some of the gear and outfitted the kids with riot helmets and shields. They also got a chance to sit in the police car and operate the lights and siren.
Inside, Officer Mike Rusin guided the group through the squad room, the interview room, the jail and the mug shot area. There were amusing moments and fun photos of the children in the jail cell and posing for mug shots.
"We are open to these kinds of tours for small groups," said Police Director Mike Bramhall. "Our officers also encourage kids to approach them when they see them in the community, ask questions or just to say hi."
Groups interested in a tour of the Fanwood PD may request it by emailing Adrianne Relford at arelford@fanwoodnj.org.
Photos by Tom Kranz