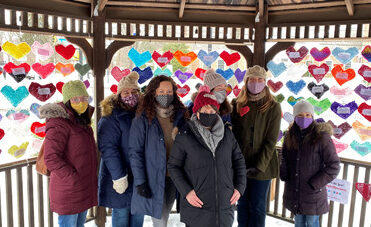 Cranford Yarnstormers "Lovestorm" Fundraiser
Submitted by Tom Usinowicz
The Cranford Yarnstormers, a local, loose knit group of knitters and crocheters, led by Cranford resident Teresa Murray, swept into downtown Cranford in February and converted the normally staid gazebo into a swirl of hearts. Part public art and part fundraiser, the installation was meant to raise spirits, raise funds and spread messages of love in time for St. Valentine's Day. The Yarnstormers offered a chance for residents to sponsor a hand knit heart for $5, or $10 with a personal message to be shared on St. Valentine's Day. All proceeds went directly to Cranford Family Care, a local food bank and support organization.
Lovestorm managed to reach a large audience even during the pandemic. The sponsored hearts sold out quickly and raised $1,750, with additional donations bringing the total to almost $2,000. In addition, a one-day food drive on St. Valentine's Day netted two carfuls of food that were donated as well.
The Yarnstormers created their first public art display in June 2020 by wrapping and decorating the Eastman Plaza clock tower and fixtures in hand knitted pieces to celebrate Worldwide Knit in Public Day. Their next project was a prize winning piece in the Cranford Annual Scarecrow Stroll, "Knitting Runs Through My Skeins", which featured a knitting skeleton.
Besides inspiring kindness and charity, Lovestorm also inspired other art and artists as well. Jane Ramsey, a talented watercolorist, and Stefanie Lalor, owner and artist in residence at The Artist Framer, both captured the scene in paintings, both of which can currently be viewed at The Artist Framer shop.
During the two weeks of the installation, even in the middle of a near blizzard, many visitors came to the gazebo to see what was going on inside, or to look for and share their messages with loved ones. When asked why the hearts are not all red, the Yarnstormers answered that "Love comes in all colors."
Future acts of yarnbombing and public art are being planned.