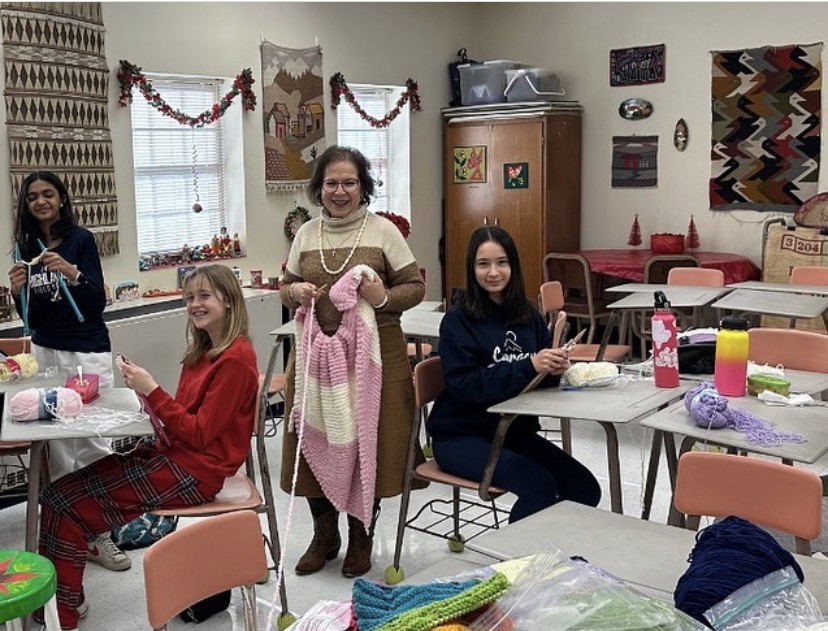 Students enjoy "Lunch and Learn" at CMS
Berkeley Heights Public Schools
Lunch and Learn at Columbia Middle School is a fun and exciting program when teachers share an interest or hobby they enjoy with students during the EP portion of lunch.
Recently, Señora Patricia Hetherington shared her love and knowledge of knitting with interested students. She tells us, "Last year I shared my earlier singing career and work at the Paper Mill Playhouse. This year when Mr. Kobliska reached out to the staff, I decided to share my love for knitting! This was a craft that I learned in an 8th grade club when I was in Middle School. I invited students to come to learn how to knit or bring their own knitting projects and spend time with friends."
The knitting Lunch and Learn was very well received by students and many of the 8th grade girls who attended are hoping to continue to meet and knit together throughout the rest of the school year. Thanks to the generosity of Mr. Stephen Hopkins, Curriculum Supervisor, there is now a supply of donated yarn for more creative projects in the future.
Photo by Berkeley Heights Public Schools