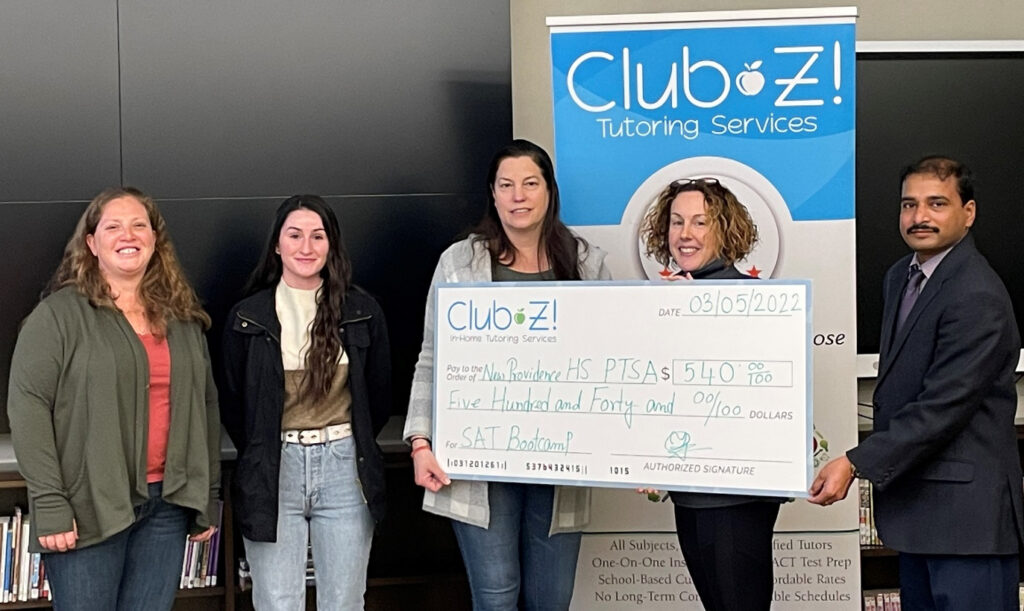 Club Z! Tutoring Raises Money for NPHS
Club Z! Tutoring & Test Prep of North Jersey organized an SAT Boot Camp in conjunction with the Parent Teacher Student Association (PTSA) of New Providence High School (NPHS) and chaired by PTSA Recording Secretary Christine Flanagan at New Providence High School on Saturday March 5, 2022. This event raised $540 for NPHS PTSA. Diane Pereira, President of NPHS PTSA, Maria DeLuca, PTSA VP, and Chris Flanagan, were honored to accept the donation at the end of the event.
The SAT is a major test that students take some time in their journey through high school, and higher scores on this test can determine higher-level college placement. Based on students' goals, it can prove effective to have prior knowledge and experience with this test. Sometimes, students may not know how much preparation they really need for the SAT or where to begin with, which is why Club Z! Tutoring facilitated this workshop to help the students with the knowledge on what the SAT is, how it works, and how to work their way through it efficiently.
The Boot Camp helped the students to understand the key test taking strategies, how much prep they would need for the SAT and was helpful in providing them with informative and engaging lectures, along with some example problems on both Reading & Writing and Math to test the knowledge they acquired throughout the lectures. At the end of the session, students were provided with one full-length SAT practice test along with a study guide through Z Prep! Score Booster, Club Z!'s proprietary Test Prep platform.
"I didn't really know much about the SAT and how to prepare for it. The problems and how you showed to solve it was helpful.", One student said.
Another student said, "I found it very helpful and learned some core techniques on how to eliminate. I gained more confidence for the SAT."
"We are so very pleased to work with Club Z!", said NPHS PTSA. "Tan Ghoroi is professional, knowledgeable, and exceedingly easy to work with.  This valuable Boot Camp will help our students in numerous ways.  This is an invaluable partnership that we are happy to continue going forward."
The college admissions process has become increasingly selective over the past 20 years, and it's continuing to trend that way. Students need to tap into every tool available to them to help get them into their schools of choice.
"It marks an important milestone for us as this is our first SAT Boot Camp in New Providence." said Tan Ghoroi, co-owner of Club Z! Tutoring of North Jersey. "When we started the operation last year, we were not sure how it would turn out as it was a total uncertainty due to Covid. However, at the same time, we found it to be a great opportunity for us to serve the community and address the learning intervention that occurred due to remote schooling. And, this Boot Camp is a testament to how we can come together to help the students and the community as a whole."
About Club Z!: Club Z! is the nation's premier in-home and online tutoring and test prep provider, with over 500 offices throughout the United States and Canada. Club Z! has helped hundreds of thousands of students improve their test scores, classroom grades, and academic self-confidence through its proven one-on-one approach. They have the services and programs to support students of all ages, from kindergarten readiness through college admissions counseling and offers in-home and online tutoring for all subjects, including SAT and ACT test preparation and study skills development. Visit www.clubztutoring.com/north-jersey to learn more.
About NPHS PSTA: The NPHS PTSA supports the entire NPHS community, including every student, teacher /staff member and parent. Their primary goal is to provide programs that foster social, emotional and intellectual growth. Through the support of their membership, fundraising efforts and donations, the PTSA funds numerous events including Teacher/Staff Appreciation Week, Staff Pop-Up events; Student Appreciation Days, grade specific events; Mini-Grants for teachers; and community centered events such as our Food Truck event and Movie Night. Special committees include Sustainability, Wellness / Mental Health, Plastics Recycling, and our Senior Class Committee.  Learn more about the NPHS PTSA by visiting their website  https://nphighschoolptsa.weebly.com.