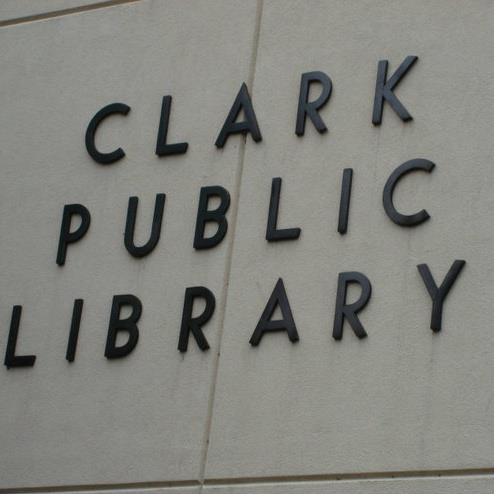 Clark Public Library October 2022
Stories & More
Fridays, October 7, 14, 21, & 28 at 10:00 am
Stories, movement, and songs followed by a simple craft for active listeners ages 3 -5 years old. Registration is required.
At the October 7 session, we will be visited by local author, Laura Sassi!
At the October 21 session, we will have a special guest, Dusty the Dog (stuffed, not live) with our friends from the Union County Childhood Lead Poison Prevention Program and Healthy Homes program.
Baby Bookworms
Tuesdays, October 11 and 25 at 10:00 am
Babies and toddlers are invited to listen to some books and learn some songs, rhymes, lap bounces, and fingerplays. 30 minutes of open play follows. We will not meet on 10/18.
Brown Bag Lunch Packing Event
Tuesday, October 11 at 3:30 pm
Join us for this family-friendly activity. We will be packing sustainable lunches for Bridges Outreach, a local service organization that helps end homelessness. Participants will decorate the brown bags with drawings and inspirational words and pack them with sustainable lunch items. Open to all ages.
Barks & Books
Tuesdays, October 11 and 25, 4 pm – 5 pm
Saturday, October 15 from 10 – 11 am
If you have a young, reluctant, or struggling reader, we want you to meet our therapy dogs! Children will each get approximately 15 minutes of reading time with Bubble, Magnolia, or Sophie. Register for a 15-minute time slot.
Meet a Firefighter
Thursday, October 13 at 3:30 pm
Celebrate Fire Prevention week by coming to the library to meet some real-life firefighters and listen to them read a story! They will also be showing off their firefighting gear and answering questions!
Eyes of the Wild Halloween Show
Thursday, October 13 at 7:00 pm
People of all ages are invited to come and meet several live, interesting creatures in this entertaining and informative show! Eyes Of The Wild is an exotic animal rescue in New Jersey that provides a home to over 175 animals.
LEGO® Club
Friday, October 14 from 3:15 – 4:15 pm
Join us for the LEGO® Club at the Clark Public Library! Create your own LEGO® structures. LEGO® are provided by the library. Creations are displayed in the Children's Area. For children in grades K – 5.
Teen Gaming Club
Sunday, October 16 from 2 – 4 pm
Drop by the library for a fun afternoon of gaming. Play some Nintendo Switch games on our big screen or bring your own device. Snacks will be served! Open to Grades 6-12.
Tales for Tots
Monday, October 17, 24, & 31 at 10:00 am
Stories and songs for active listeners. Geared toward ages 2-3 with a caregiver. Older children are welcome! 30 minutes of open play follows. Registration is required.
Union County Aging Services Kiosk
Monday, October 17 from 10 am – 12 pm
Do you have questions about services available in Union County for seniors or their caregivers? Come visit the Union County Aging Services Kiosk, speak to our specialist, and get answers to your questions.
Teen Ceramic Pumpkin Painting
Tuesday, October 18 from 3 – 4 pm
Stop by the library to paint and decorate your own ceramic pumpkins. Open to teens in Grades 6-12.
After School Board Games
Tuesday, October 18, 2 – 5 pm
Join the Clark Public Library to relax and hang out while playing games after school. Something specific you want to play? Bring it with you! Games available: Chess, Clue, Code Names, Dungeons & Dragons (Basic Rule Books), Guess Who, Life, Monopoly, Pandemic, Scrabble, Ticket to Ride, Uno
Krafty Kids
Wednesday, October 19 at 3:30 pm
Join us as we make some fun and creative artwork. Using a few art supplies we will make a new craft each session! Don't forget to bring your imagination and creativity! Register for each session individually. Geared to ages 5-11
Little Scientist
Thursday, October 20 at 4 p.m.
Learn how to build and create with our Science Experiments! Each session will be a different experiment that will touch upon a different STEM skill. For ages 6-12.
Clark Library Trivia Nights: Stranger Things
Thursday, October 20 from 7 – 8 pm
Test your knowledge alongside your friends at Clark Public Libraries' monthly Trovoa Nights! Thursday we will be hosting a trivia contest on everything from history to the biggest hits on Netflix. 1st, 2nd, and 3rd place winners will receive both a prize and bragging rights. This week's Trivia Night will be on Stranger Things, the smash hit on Netflix which just finished its fourth season.
The Missing Book Library Escape Room
Saturday, October 22, 11 am – 1 pm
(30-minute blocks)
The Library Director recently got a whole case of treats for the staff to share in the celebration of a job well done serving the Clark Community. Unfortunately, while she was locking up the treats, to ensure that the pesky library cat and ghost didn't steal any, a Clark resident asked for help returning one of their overdue books and the Director accidentally lost the keys! You've been asked to help her find the missing keys with some of the celebratory treats as a reward.
Maker Monday
Monday, October 24 at 3:30 p.m.
Join us as we use hands-on STEAM learning to create an object with the materials given. Registration is required. Masks are optional for programs. For ages 9-12
Paint a Pumpkin for Kids
Tuesday, October 25 at 3:30 p.m.
Thursday, October 27 at 6:30 p.m.
Join us for our annual Paint a Pumpkin event. Listen to a story about pumpkins and then paint a pumpkin to take home with you. This program is for ages 3 – grade 5. Registration is required and will close on Sunday, October 23 at 10 a.m. to ensure adequate supplies. Please wear old clothes, as we will be working with paint. Please register for only one session.
New Jersey Paranormal
Tuesday, October 25 at 7:00 p.m.
Join members of New Jersey Paranormal as they share their experiences as paranormal investigators. Learn about local legends and hauntings. A question and answer period will follow the presentation.
Tinker Tots
Thursday, October 27 at 10:00 a.m.
Come join us for a morning of fun STEAM (Science, Technology, Engineering, Art, Math) activities perfect for little ones. For children ages 1 through Pre-K. Please register.
Friends of The Clark Public Library Book & Costume Jewelry Sale
Saturday, October 29 at 10 a.m.
Fill a shopping size back for $5.00. Paperbacks are $.50 and hardcovers are $1.00.
Coming soon: Dinovember!
During the month of November, we will have special dinosaur-themed activities for kids!
Dino Trivia for Kids
Tuesday, November 1 at 3:30 p.m.
It's Dinovember! Join us in person or virtually to play a Dinosaur trivia game on Kahoot! Call us or check our online catalog for availability. Prizes awarded to first, second, and third place.
Krafty Kids Dinosaurs
Wednesday, November 2 at 3:30 p.m.
Join us as we make some fun and creative artwork all about Dinosaurs! Don't forget to bring your imagination and creativity! Please register for each session individually.
Geared to ages 5-11.
[Hybrid] Family Game Night-Bingo
Thursday, November 3 at 6:30 p.m.
Join us on Zoom or In-Person for Family Game Night! This month we will be playing BINGO! Children, Parents, and your child's Grandparents are invited to play along! Prizes for winners and runners-up. *Must be willing to pick up prizes in person, they will not be mailed. If not picked up within 30 days of the event, the prize will be forfeited.