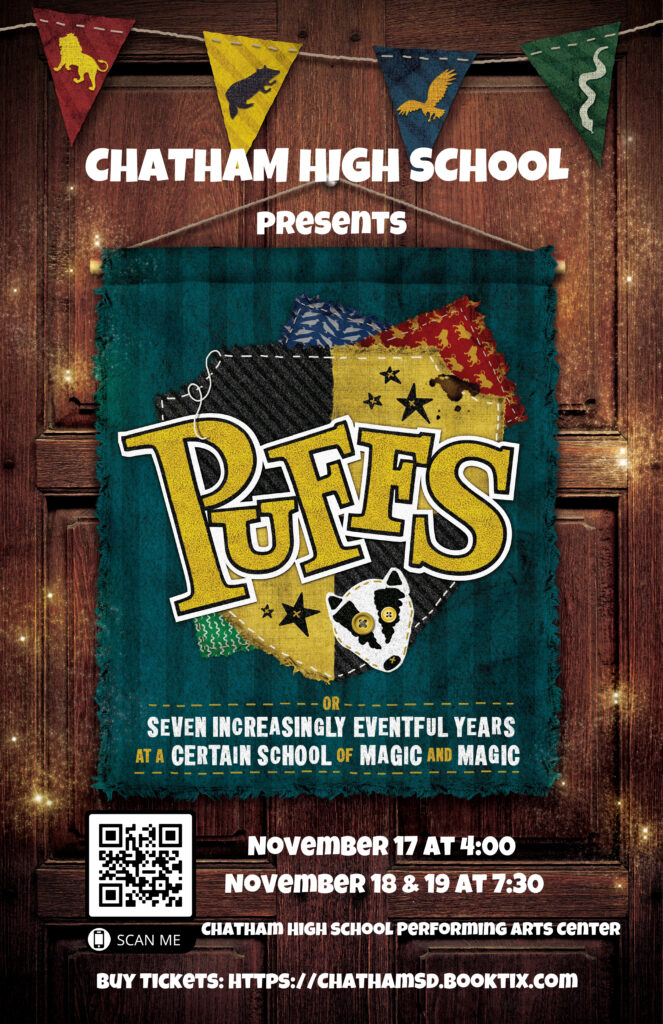 CHS Presents "Puffs" 
From November 17-19, the Chatham High School Theatre Department will present their fall play, Puffs: or Seven Increasingly Eventful Years at a Certain School of Magic and Magic. Puffs gives the audience a front-row seat to the sidelines of the world's most famous magical journey. Follow Wayne and his outcast friends as they discover that there is a hero in all of us–even the underdog.
Performances will be held Thursday, November 17 at 4:00 p.m., and Friday, November 18 and Saturday, November 19 at 7:30 p.m.
Tickets for the performances are $12.00 for students, $15.00 for adults, and free for senior citizens, and must be purchased in advance online at chathamsd.booktix.com starting Wednesday, November 9. All tickets for the Thursday show only are general admission.
Tickets for the Thursday performance are $5 for students wearing Harry Potter themed costumes, and regular price for all others. Senior citizens do not need a ticket for Thursday's performance only. They do need a ticket for the Friday and Saturday performances and should use the comp code: FREESC at checkout.
Following the Thursday performance is a complimentary dinner for senior citizens. An RSVP for the dinner is required and reservations can be placed by emailingseniorfallplay@gmail.com. No ticket is required for this show, but an RSVP is needed to attend the dinner.
For more ticket information please email Alexis Irene atairene@chatham-nj.org.