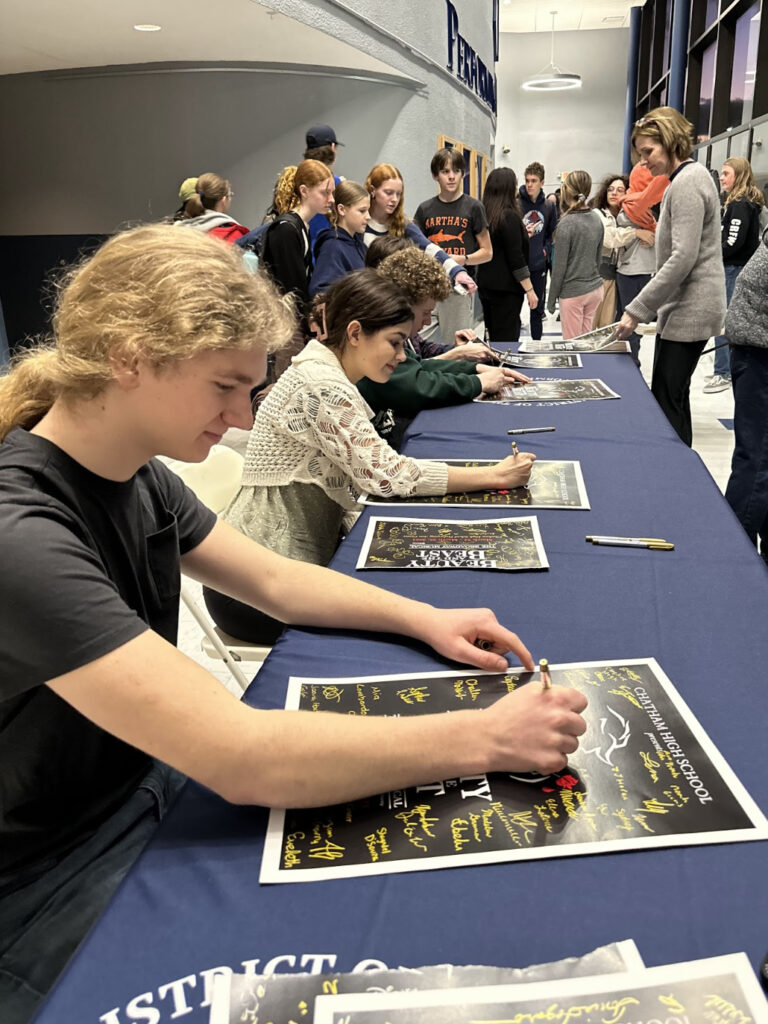 Autograph Signing Event 
The Chatham High School cast of Beauty and The Beast was rehearsing "The Mob Song" scene on stage in early March, but the atmosphere out in the lobby was just as energized.
The bustling activity was the result of a donation by Greg Dailey, owner of Chatham's Legends Gallery @ Frames on Main, of Beauty and the Beast posters for the cast to sign.
"Best autograph event ever," Dailey commented, as he guided the students through their first organized autograph signing. He's hosted many athlete signings, think Mets, Jets, and Rangers players, to name a few.
Proceeds from the sale of the posters will go toward supporting the performing arts in the district.
While some students were rehearsing on stage, others were lined up in the lobby waiting for gold-ink markers to sign their names.
"I'm only a napkin," said sophomore Elena Latorre, featured dancer, surprised that the entire cast was included in autographing the posters. She is playing one of the dancing napkins in the Beast's household staff.
Some students signed quickly, some took their time. Some signed in cursive, others printed – the better to be legible and recognizable.
"Thanks so much for doing this," said senior Tommy Nonnenmacher, who plays Lumiere, the enchanted candelabra, as he considered how to fit his lengthy 12-letter last name on the poster.
He quickly came up with a solution: Tommy Nonny.
Dailey shared signing pointers learned the hard way during autograph sessions with famous athletes. Lefties should sign near the bottom, he said. Otherwise, they'll inadvertently smudge other signatures if their arms drag across the posters when signing higher up.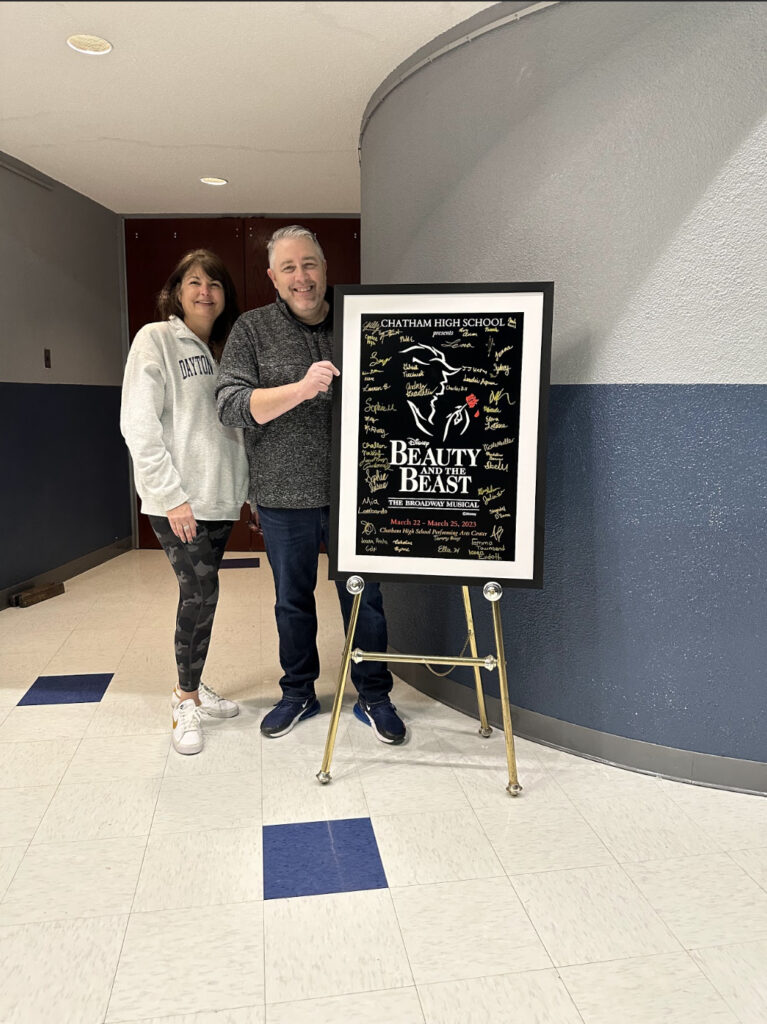 He brought his colleague, Tonia Lofaro, to the event to keep things moving along– having 48 kids sign 48 posters in between rehearsing their scenes is no easy feat.
A supporter of the Chatham Performing Arts Boosters' events such as the holiday-themedNight of Music that was held downtown, Dailey also wanted to support Chatham High School's production of Beauty and Beast. He noted that it is his daughter's favorite Disney movie.
"It's not lost on me the amount of time and effort kids put into their extracurricular activities," said Dailey, a father of three whose kids all played sports." So when I see an opportunity to help them feel great about what they're doing, I go for it."
The support is very much appreciated. "At the beginning of the past school year, our organization had begun an effort to connect the school district's performing arts program with the greater community, bringing our events downtown and encouraging families to visit stores and restaurants," said Janine Vecciarelli, CPAB president. "What we did not anticipate was the amazing response in return from our local businesses for our schools' performing arts programs. Greg has been a constant champion of our organization's efforts. We are so grateful for his positivity and his support."
CPAB is a 501(c)(3) non-profit organization that supports K-12 performing arts in the School District of the Chathams.