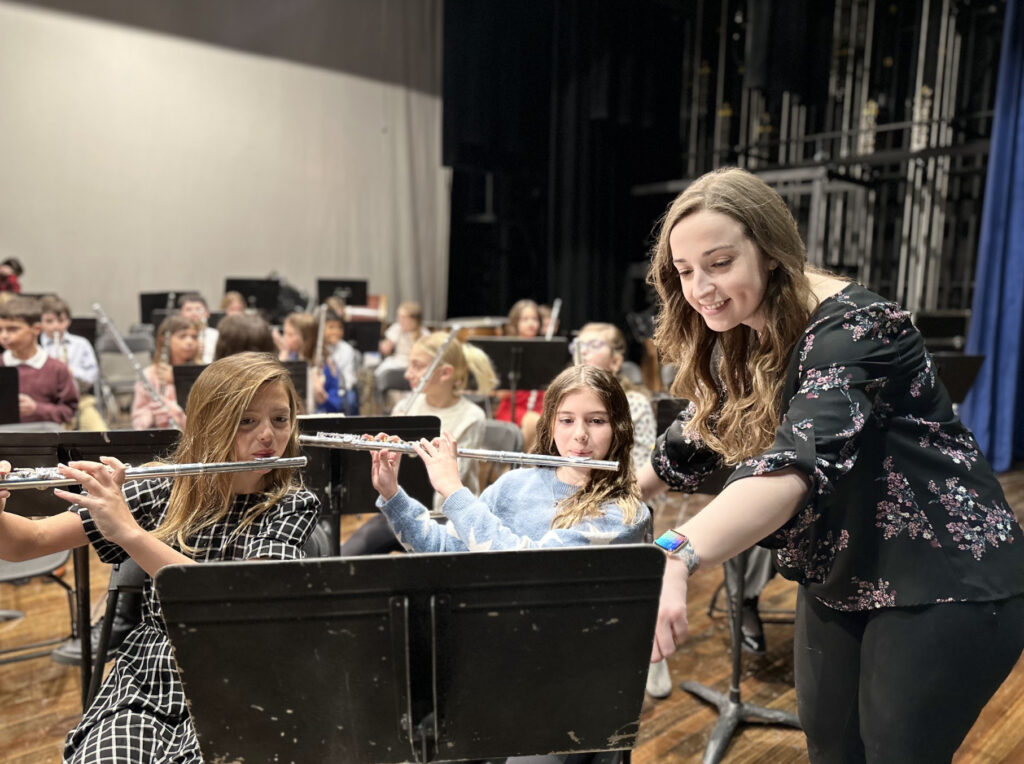 Morning with the Musicians
Submitted by the Chatham Performing Arts Boosters
Snowy weather could not stop the music at Chatham's Morning with the Musicians held in the Chatham Middle School (CMS) auditorium on March 11th.
The event showcased the musical talents of the district's students led by their teachers. It was sponsored by the Chatham Performing Arts Boosters (CPAB) to raise money to support K-12 performing arts programs.
The Lafayette School's 4th grade band started the show, led by their teacher, Emily Gaul.
They were "so excited to perform for the very first time at this event," Gaul said. "They were also able to watch older groups, like the 6th grade band and middle school Jazz Band, which gives them a glimpse into their future in the Chatham Band Program. As a teacher, I love to see my students enjoy making music together and develop a band community and family."
The 4th grade orchestra performed next. "The 4th grade orchestra was thrilled to be a part of such a wonderful event," said Liam Keller, Director of Orchestras at LAF and Chatham High School (CHS). "We could not think of a better place to show off all of our hard work from the last six months and are excited to continue our work for the spring!"
The 6th grade band and 7th/8th grade orchestra followed, capped off by the CMS Jazz Band, which had the audience humming to The Beatles' "Hey Jude" and Pharrell Williams' "Happy".
CHS's own Chris Tomaino served as master of ceremonies.
Excitement extended well beyond the auditorium doors. In the lobby and halls, kids enjoyed carnival-themed crafts, an instrument scavenger hunt, and an instrument petting zoo—hosted by Elefante Music and School for the Performing Arts– where everyone got an up-close look at some of the instruments being played inside.
Al Elefante, owner of the school and a musician himself, enjoyed the event. "It's always good to see kids having fun and doing something good," he said.
A balloon artist named Silly Willy delighted everyone with his hand-twisted balloon creations.
Fourth-grade orchestra member, Issei Fondi, stood patiently as a crowd grew around him watching Silly Willy encase Fondi in a flying dragon balloon sculpture. Silly Willy constructed a balloon car around another student who promptly took off, zooming around the lobby.
Outside, food trucks Twelve Truck and Eddie Dee's Global Eats served hot food to the chilly crowd.
A mobile coffee trailer slated for the event was incapacitated but drinks from Dunkin' on Main Street came to the rescue. Freshmen Key Club members Summer Tedesco and Lacey Polychronopoulos helped set up a pop-up coffee station and ably filled the need for coffee and hot chocolate.
Chatham Performing Arts Boosters is a 501(c)(3) non-profit organization that supports K-12 performing arts in the School District of the Chathams. To learn more, please visit chatham-pab.org.