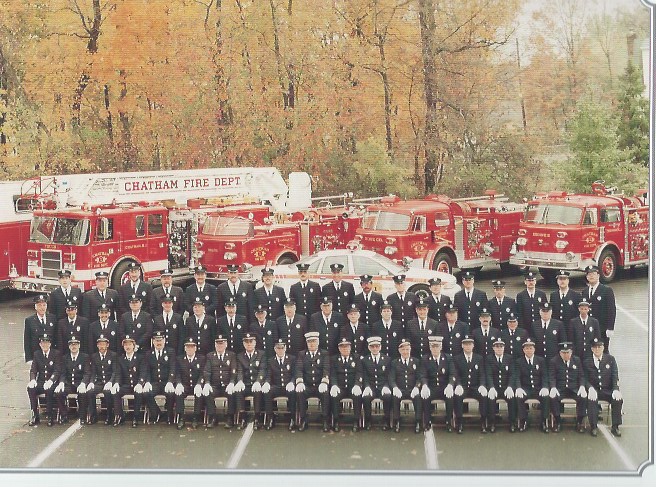 The Chatham Volunteer Fire Department at 125
Submitted by Gerry Geisler, Chatham Historical Society
The Chatham Volunteer Fire Department is celebrating its 125th anniversary this year. The community was invited to an Open House event held on Saturday, May 6, 2023.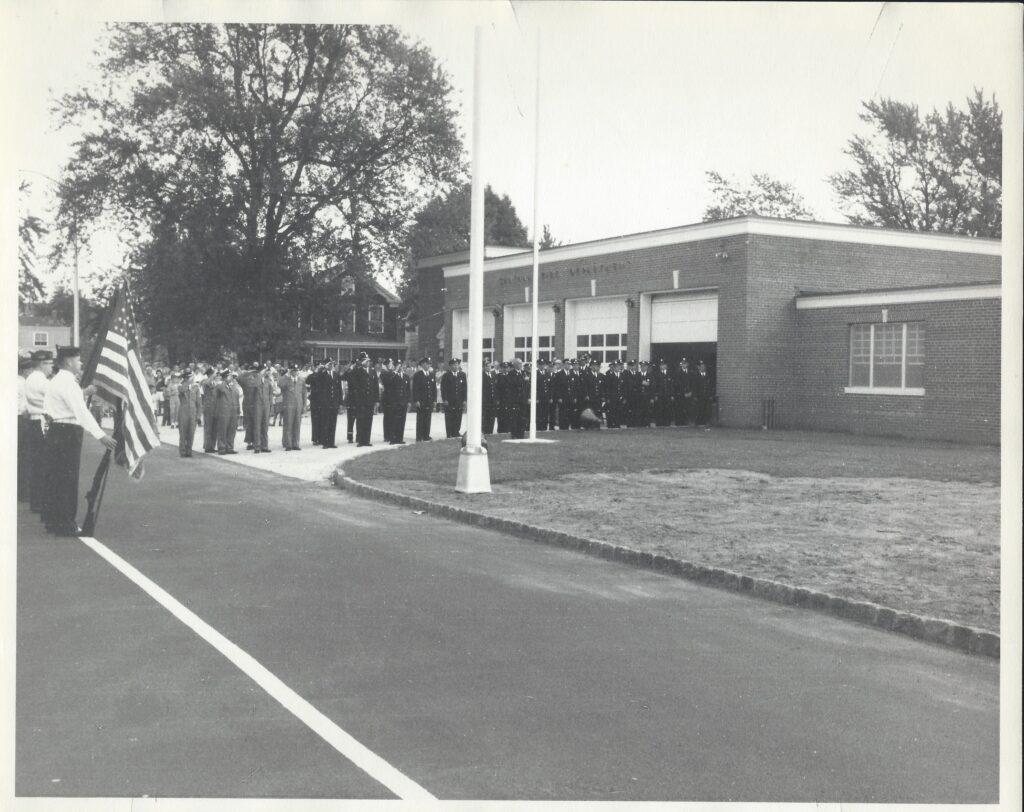 The Chatham Volunteer Fire Department was formally organized on May 7, 1898. Initially the department was organized as two companies, one on either side of the railroad tracks. Initial equipment consisted of two hose carts and some hose purchased second hand from Morristown. A second hand ladder truck later joined the equipment roster. Equipment was rushed to a fire scene by hand, with horses being borrowed from one of the local livery stables when needed. The equipment was stored in rented space on Passaic Ave. 
In 1907 a combined Borough Hall and Fire House on was constructed on Fairmount Ave. 1959 when a new Firehouse was constructed using a section of Reasoner Park.
The need to borrow horses ended in 1911 when the CVFD acquired their first motorized piece of fire equipment, a homebuilt fire truck converted from a Locomobile touring car. In 1914 the CVFD purchased their first purpose built fire motorized truck from American La France.
In addition to providing fire protection, the CVFD has been instrumental in establishing many beloved local traditions. In December of 1918 the CVFD began the tradition of decorating and displaying a tree in reasoned Park for the holidays. In 1919 the CVFD helped to raise funds for the first version of what is today the Chatham Municipal Pool.
The Chatham Emergency Squad was originally organized as a unit of the CVFD in 1935.
In 1952 a great local tradition was born as the CVFD established their annual 4th of July parade and fireworks celebration. This well loved tradition continues to delight Chatham residents of all ages as well as to bring former residents back into town.
In 1959, having long outgrown their original location on Fairmount Ave., the CVFD moved into their new quarters in the current firehouse.
Other Chatham traditions that originated with the CVFD includes the Annual Small Fry Fishing Derby, first held in 1964, and the annual post holiday Christmas Tree Collection. The Christmas tree collection was originally organized as a fire prevention effort by the CVFD.
Today's CVFD continues the commitment to the safety and welfare of the citizens of Chatham Borough that was shown by the founding members 125 years ago. A new volunteer undergoes over 100 hours of rigorous formal training using modern equipment that was not yet even imagined in 1898. Regular drills keep their skills up to date. One thing that has not changed in 125 years: the commitment to the safety and welfare of the citizens of Chatham Borough that has always been shown by the members of the CVFD.