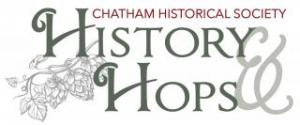 Annual History & Hops Celebrates Main Street
Everyone is welcome to attend the Chatham Historical Society's 4th Annual History & Hops event to celebrate Chatham's Main Street. This casual event will take place on Friday, October 25, 2019 at 7:30 p.m. at the Fish & Game Club on Fairmount Avenue.
Chatham's first Main Street was carved by the Lenni Lenapi tribe as they made their yearly journey from the mountains to the shore and back again. The path they followed was called the Minisink Trail and the river they crossed they called Fishawack. The first known settlers in Chatham were John and Daniel Day. They were farmers, but because of the location of their property near the river, they became merchants. They built Day's Tavern, which was a stopping place for people coming from the east and west. This was the first establishment on Main Street.
In 1868, Chathamites were still mainly farmers and the town had a population of about 700 citizens. But the railroad was starting to change things. Trains stopped in Chatham to uncouple cars carrying coal so they could make it up the steep incline to Summit. The trains also brought vacationers to Chatham for its "salubrious air". Other trades and businesses became necessary. Hotels and boarding houses were built, Liverymen were needed to take visitors from the depot to the hotels and boarding houses. Horses and wagons were needed to carry freight from the depot to local businesses. Masons, carpenters and plumbers were needed for the new homes being built. By the end of the nineteenth century, Chatham's Main Street had changed from a dirt path to a bustling small town center.
If this story piqued your interest, the Chatham Historical Society invites you to attend the 4th annual History & Hops where the story of Main Street will continue. Along with vintage Chatham photos and more historic information about Main Street, there will be delicious food, wine and, of course, beer. Live entertainment will be provided by "Unplugged,"  the band of Chatham's own Mike McLaughlin, Sal Arnuk, and Chris Tomaino. See old friends, make new ones and raise your glass to Chatham's history.
Tickets are $50 per person. Please check out the society's website chathamnjhistoricalsociety.org for more information and to purchase tickets on-line, or mail a check to: The Chatham Historical Society, PO Box 682, Chatham, NJ 07928.
Check our Events Calendar for More Local Events