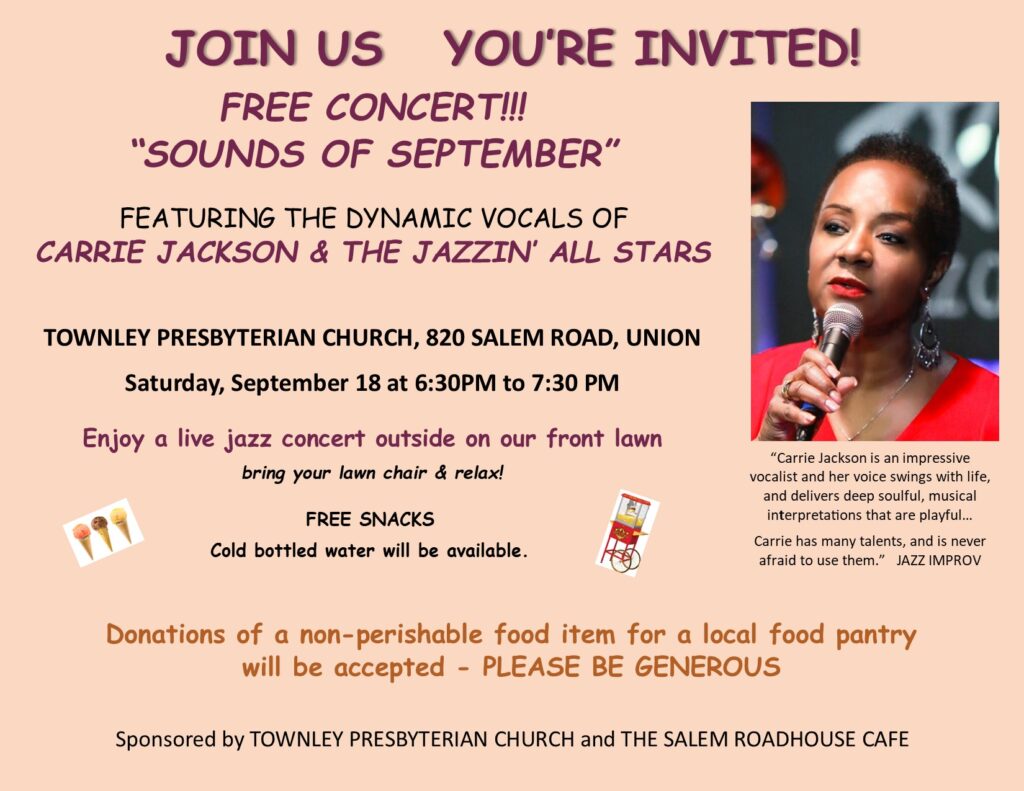 Sounds of September – Free Music Concert
Townley Presbyterian Church together with the Salem Roadhouse Cafe proudly present Carrie Jackson & the Jazzin' All Stars, performing on Saturday, September 18, 2021.
The show starts at 6:30 p.m. and goes until 8:00 p.m. at the Townley Presbyterian Church, 829 Salem Road, Union, NJ 07083.
The concert is free. It's a wholesome show, so bring the entire family! Don't forget to bring your lawn chairs. Plenty of safe outdoor space. Free snacks will be available.
Donations of a non-perishable food item for a local food pantry will be accepted – please be generous.
Carrie Jackson is a metropolitan area based vocal stylist and rekindles thoughts of America's great jazz history. Carrie credits her mentors, the great ladies of jazz, Sarah "Sassy" Vaughan, Ella Fitzgerald, Nancy Wilson, Carmen McRae, Dinah Washington, Billie Holiday, and others as a primary musical influence for her style, which indelibly helped shape vocal jazz for every generation.
Carrie attributes her vocal style of singing from her mentors and made them a part of her, also bringing new horizons to this classical American art form called Jazz. The truth is that she has a bit of all of them and more that create her own unique style as she proudly carries the jazz banner.
Carrie is a vocalist and performer, a native of Newark, NJ, and honed her many talents in the jazz mecca of performing arts while performing throughout the USA and abroad. She spreads and shares her joy and well-honed expertise on the stage.
Ms. Jackson, with her multifaceted singing style, can harmonize swing and scat; swings classic jazz standards with sweet soul; wails the blues, cabaret, pop tunes, ballads, or Gospel, all complimented by her engaging stage presence and graceful moves. Carrie has a wide range with a strong command of the classic elements of jazz vocalizing. She is a gifted lyricist, has great timing and truly sings from her heart and is comfortable performing with a small ensemble, big band and or orchestra.