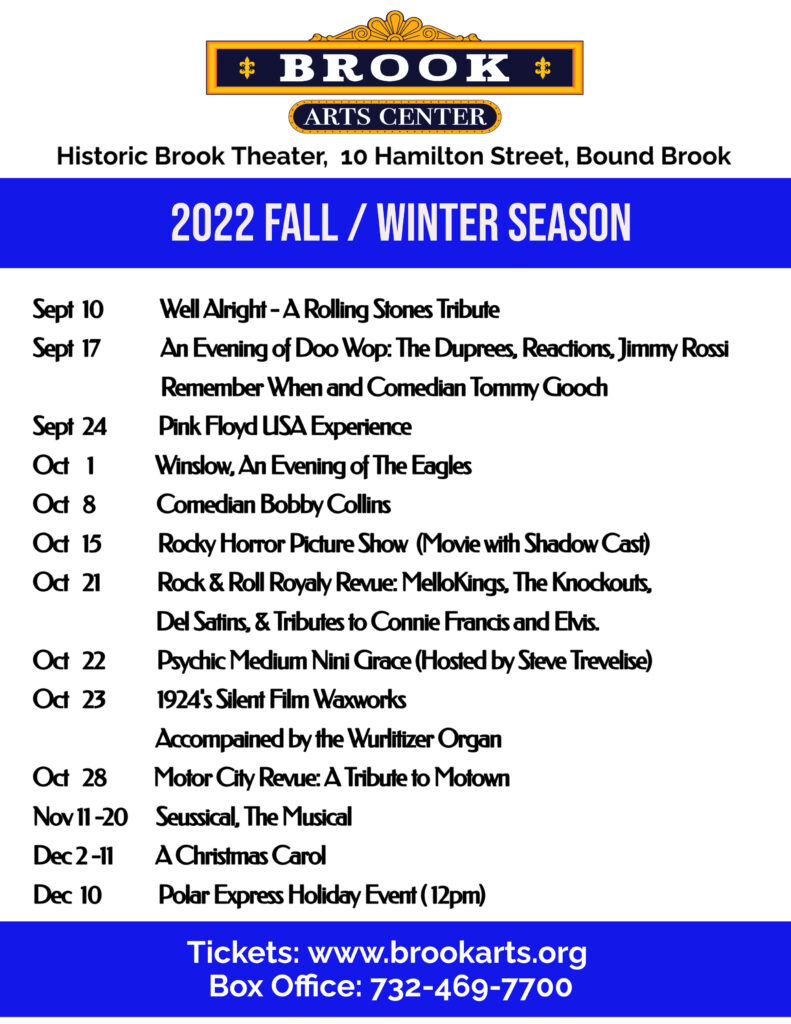 Brook Arts Center Fall 2022 Season
Our fall 2022 season offers varied and dynamic experiences in music, comedy, and theater starting Saturday, September 10.
September 10: Well Alright, A Rolling Stones Tribute performs the biggest hits from the Rolling Stones catalog with the look, energy, and musical detail providing fans with the ultimate Stones experience.
September 17: The Duprees. For more than six decades The Duprees have entertained audiences who love the unique and romantic sound that has echoed through time.
September 24: NJ's best Pink Floyd tribute band, PINK FLOYD USA EXPERIENCE, plays all the classics, highlighted by lights, fog, lasers, and videos!
October 1: Winslow, An Evening of the Eagles recreates the live performance of The Eagles and the signature sound that made them one of the most successful artists in the 7O's.
October 8: Comedian Bobby Collins comedic characterizations expose the humor of day-to-day situations and serve up resplendent rants on world events.
October 15: Shadow Cast Friday Nite Specials presents the cult classic movie, The Rocky Horror Picture Show
October 22: An Evening with Psychic and Clairvoyant Nini Grace.
October 21: Jackie DiMaggio tribute to legendary Connie Francis. Joined by Doo-Wop groups The Mello-Kings, Bobby D'Andrea's The Knockouts and Gene DiNapoli's tribute to the King – Elvis!
October 28: Motor City Revue faithfully recreates the signature Motown sound with its authentic tribute to the artists and songs that defined a generation
November 11-20: Seussical is a fantastical, magical, musical extravaganza! Immerse yourself in the world of all our favorite Dr. Seuss characters – Horton, The Cat in the Hat, Gertrude McFuzz, Mayzie, and a little boy with a big imagination – Jojo.
Visit our website brookarts.org for information and advance discounted tickets or call 732-469-7700. Box Office Opens at 6 p.m. for walk-up sales. Concessions, bar, and free parking are available. The Brook Arts Center is in Bound Brook, NJ, one block from the Bound Brook Train station and a few short miles from Rt 22, 287, and 78.