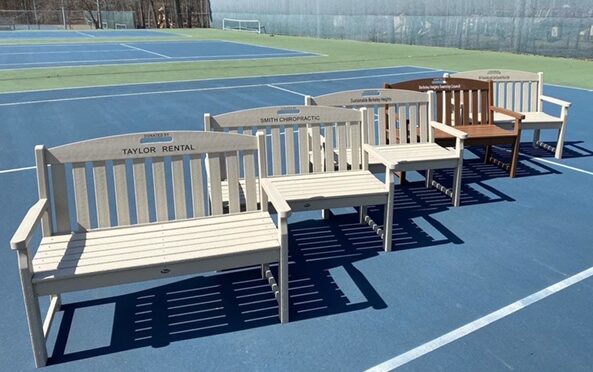 So what does 2,500 pounds of recycled plastic look like? 
Thanks to scores of Berkeley Heights residents who have been squirreling away thin plastic recyclables through the pandemic, the township this week received five new plastic benches from The Trex Company, the decking company that is sponsoring a nationwide recycling effort.
Local participants Smith Chiropractic, Taylor Rental, Sustainable Berkeley Heights, the Berkeley Heights Township Council and Berkeley Heights Township and Cub Scout Pack 268 each collected a minimum of 500 pounds of thin plastics over the last six months and were each awarded a Trex bench. The benches have been placed throughout lower Columbia Park with the new benches adorning the tennis courts.
The Berkeley Heights Environmental Commission (BHEC) has funded the engraving of each bench with the names of organizations or groups responsible for collecting the thin plastics.
Taylor Rental has volunteered to be one of the local collection sites, and according to owner Paul Neuwirth, has accepted donations of nearly 3 tons of plastics since the pandemic began. According to Mr. Neuwirth, the plastic bags are delivered weekly to a local grocery distribution center, where it is compacted and shipped to Trex. Other collection sites in town include Mary K. McMillin Early Childhood Center and the Wharton Institute for Performing Arts.
The plastics accepted at the local collection center include thin plastic grocery bags, bread bags, bubble wrap, dry cleaning bags, plastic newspaper sleeves, plastic from ice bags or shipping envelopes. Trex will also accept Ziploc bags and other recloseable food storage bags (clean please!), plastic case wrappings from cases of soda/water bottles, driveway or water softener salt bags, plastic wrap and stretch film, bags from wood pellets and grocery produce bags. Heavy plastic pet food bags and bags with aluminum linings are not acceptable, according to Mr. Neuwirth.
According to Kim Diamond, President of Sustainable Berkeley Heights and chair of the BH Trex Thin Film Plastics recycling program, the BHEC began the Trex recycling effort in town in June 2018. Since that time, the town as earned 20 Trex benches.
The total amount of thin film plastics deposited in Trex bins in Berkeley Heights has exceeded 17,000 pounds, according to Diamond. That's more than 8.5 tons of plastic that would otherwise have wound up in landfills or that would have been discarded as litter.
According to Pat Smith, the drop-off location he partners with at Taylor Rental has collected nearly 2,600 lbs. of plastic since January of this year.
"A great job by all the residents collecting plastics. All this from a small sampling of residents," said Smith.
"It's very heartening to see residents' continued, high level of participation in the Trex thin plastics recycling program, notwithstanding COVID," said Diamond. "Not only do these benches evidence plastics that have been recycled and repurposed for reuse, but they evidence our community's interest in taking care of our town from an environmental stewardship perspective."

According to Trex, 75 thin film plastic bags equal 1 pound. So, multiplying that out, (75 x 16,155 = 1,211,625), residents of the township have collected approximately 1.2 MILLION thin film plastic bags in over a two-and-a-half-year period.
To date, in addition to the BHEC, the following groups have participated in this program: Berkeley Heights Historical Society; Berkeley Heights Recreation Department; Berkeley Heights Rotary Club; Church of the Little Flower; Girl Scouts Tiger Unit (Girl Scouts from different troops and of all ages in Berkeley Heights); Laurianne Tussel-Holsten and Vincent Cirincione of RE/MAX Achievers; Mary Kay McMillin Early Childhood Center; Master Gardeners; Mountain Park Elementary School; Sandy Hook Promise; Scout Pack 268; Smith Chiropractic; Sustainable Berkeley Heights and the Township of Berkeley Heights (administration); Township Council of Berkeley Heights; Taylor Rental and Wharton Institute for the Performing Arts.