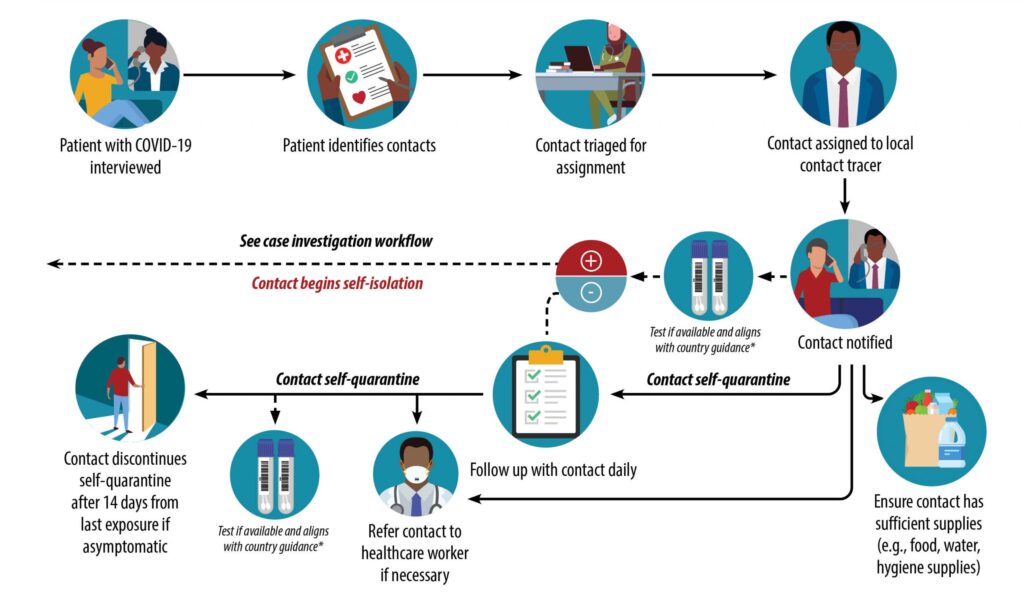 Berkeley Heights Encourages Contact Tracing 
Berkeley Heights and other towns cannot get their numbers under control if people do not cooperate with contact tracers. For COVID-19, the ability to scale our contact tracing capability is absolutely crucial to break the chain of transmission, slow community spread and restart the economy. Contact tracing is a long-standing process; if you're getting called, it's because you tested positive for COVID-19 or may have come into close contact with someone who has. Contact tracing goes hand in hand with testing. It is part of the process of supporting patients with suspected or confirmed infection. Here's how it works.
Contact tracers will reach out via phone, text message, or letters dropped off at your door. Contact tracers will provide their name, agency, and a phone number. If you have any doubts about the legitimacy of your conversation with a contact tracer, you may hang up and call your local health department. Our Berkeley Heights Health Officer can be contacted at: (908) 518-5620. You should also feel free to request the name and ID of anyone who calls.
To ensure you have the care you need and the support to keep you and your family safe, you may be asked:
To confirm your date of birth, address, or other basic information.
Discuss any symptoms you may have had, whether you were hospitalized, or any underlying health conditions that might put you at greater risk.
Details about your living situation so you can be informed on how to safely self-isolate or self-quarantine.
If you are uninsured, so we can give you additional information about free testing and care.
You may also be asked about your job to determine if you are a health care worker or essential worker and therefore must comply with additional safety requirements.
If you tested positive for COVID-19:
A contact tracer will work with you to identify your close contacts – anyone you spent 15 minutes or more with over a 24-hour period and were within 6 feet of while you were infectious (2 days before onset of symptoms to 10 days after).
If you don't have symptoms, we'll ask about your activity during the two days before your diagnosis.
We will also ask for the phone numbers of anyone you tell us about, so they can be called and cared for.
What a Contact Tracer Will NOT Ask…
A contact tracer will never ask for your social security number.
A contact tracer will never ask for confidential financial information like your bank or credit card number.
A contact tracer will never ask about your immigration status and ICE will not be notified about your location.
The information you share will not be used for the purposes of law enforcement or immigration enforcement in any way.
The information you share will not negatively affect your public charge assessment or be used to deny access to health care or any other essential service.
Your cell phone is never tracked, a GPS location is not followed, and geolocation data is not collected or used.
If someone is requesting personal information covered above, it is likely a scam. You can report these calls online to the New Jersey Division of Consumer Affairs or by calling 973-504-6240.
Your information is confidential. Neither your name or your COVID status will not be released to your contacts, or your COVID-19 status; that information will only be known to public health officials and our local health departments.
Follow Berkeley Heights Communications Committee on Facebook @BerkeleyHeightsCommunicationsCommittee