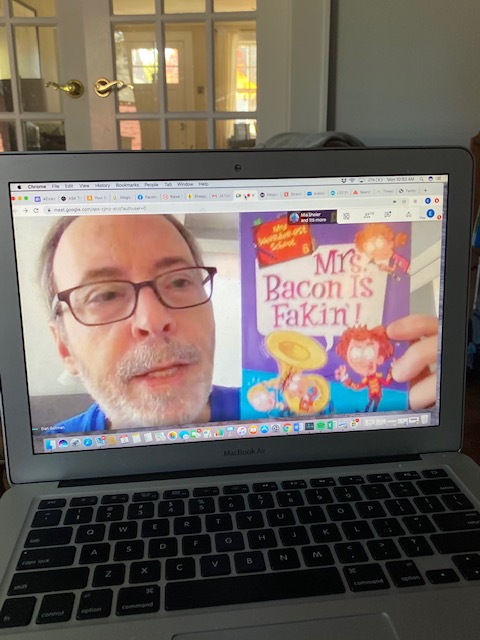 Authors Visit Coles Students
Submitted by Elizabeth Valcich
J.A. Coles Elementary School students enjoyed virtual author visits this fall, sponsored by the J.A. Coles PTA.
2nd, 3rd and 4th graders at J.A. Coles School in Scotch Plains, NJ had a wonderful visit with author Dan Gutman. Mr. Gutman shared his writing process and encouraged children to never give up. Mr. Gutman also read the first chapter of his newest My Weird School series book, Mr. Corbett is in Orbit. The children had fun learning from Mr. Gutman and were able to ask lots of questions at the end of his presentation. To learn more about Dan Gutman, please visit his website, dangutman.com/.
Local author and Coles mother, Kim DiVita Smith, shared her Catch My Kiss series of picture books with PreK, Kindergarten and 1st grade students. She taught students to look for rhymes when reading because it helps with reading, spelling and writing. She shared one of her favorite rhymes, "Every time I find a rhyme, I giggle and I wiggle."
After answering questions, she left students with three key take-aways: always take a moment to catch or blow a kiss each day to a loved one; make it a habit to be kind so that you can spread happiness; if you're looking for an adventure, just open any book!
The PTA is so thankful Ms. DiVita Smith could share her talent with our students. You can schedule a visit and find out more about Ms. DiVita Smith by visiting her website, booksbykds.com/.
The J.A. Coles PTA is a 501(c)(3) non-profit whose mission is to enhance the educational experience of our students and support the staff and parents at the J. A. Coles School in Scotch Plains, NJ.