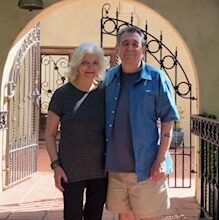 Art League of the Chathams Fall Show
Submitted by Ann Frommer
The Art League of the Chathams will host their fall show of artwork by the Art League artists and showcase a husband and wife team. A opening reception will take place on September 26 from 2 – 4 p.m. in the Lundt-Glover Gallery, located in the Chatham Twp. Municipal Building, 58 Meyersville Road, Chatham Twp, NJ. Refreshments are served. People who are unvaccinated are requested to please wear a mask.
The Fall Exhibit will run from September 26 through December 6, 2021 and is free and open to the public.
Susan Scarince Jones and Alan Jones, mixed media artists, are the combined solo exhibitors. The title for their show is "Nature's Impressions".
Susan, whose artwork is inspired by nature, especially landscapes of the southwest, enjoys creating impressionist paintings and collages using metal, copper and tin. Her colors range from warm earth and rust tones of the west to the cool blues, greens and pastel colors depicting spring gardens and trees of the eastern woodlands.
"I rarely use a plan other than the size of the canvas and the colors or textures I would like to use. Trusting my intuition, I let my art 'happen'. My main goal is to express myself and draw the viewer into my paintings," states Susan.
Susan was born and raised in Madison, NJ. A shy, quiet kid, she used art as a way of expressing herself. Majoring in fine arts in Boston, she worked in NYC in the advertising field concentrating on illustration, giftware and package design. "My biggest thrill as an apprentice artist was seeing my art illustration appear in the New York Times and other large newspapers." Her designs also appeared on a variety of items such as dessert dishes to a line of juice drink packages.
As a member of the Art League of the Chathams and Drew Art Association, she has exhibited and sold her work in numerous solo and juried shows. Susan has given art instruction to both children and adults throughout the Tri-County Area.
Susan has created and published a series of three photo books for young children called Skippy Chipmunk. The books contain her photographs and stories about a real live chipmunk living in her garden. As an author, she visits local nursery schools and enjoys seeing the children's reaction to her stories. Her Skippy books and photos will be on display at the exhibit.
Alan Jones is new to the art community, but not new to the artist world. He diligently worked behind the scenes assisting Susan with many of the technical art issues.
Born in Newport, Wales, he moved to the US as a teenager. After finishing school and serving in the US military, he met Susan on a blind date. By coincidence, they had both been reading Thoreau's Walden. At that point, there was an instant connection with their love of nature and interest in art (and each other). They married, moved to Long Valley and raised two children.
Alan has always been interested in art, but it was after he retired from a career as a machine designer for various engineering firms that he then began to paint, design and construct clocks using tile, copper and wood.
Noting the colors selected for his projects looked perfect next to her artwork, Susan urged him to try his hand at painting. "I have been encouraging everyone around me to get into art and then realized Alan had potential with just a bit of encouragement!"
For more information about the Art League of the Chathams visit artleagueofthechathams.org