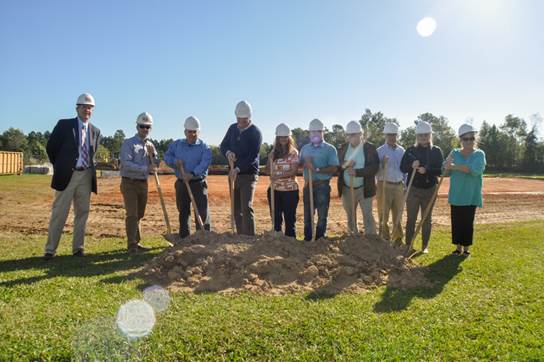 "Almost Home" Dog Rescue Breaks New Ground
Submitted by Thomas White
Home for Good Dog Rescue (HFGDR), a foster-based non-profit organization located in Berkeley Heights, New Jersey, has selected Aiken, South Carolina as the location for a new state-of-the-art facility named "Almost Home" to help reduce the number of animals euthanized in South Carolina and Georgia. As a result of its decision, HFGDR will be providing employment to local businesses and individuals, in order to build, operate and maintain the one-of-a-kind facility. This vote of confidence in the Aiken community affirms the desire to enhance the level of education available to residents regarding animal welfare.
The 10-acre site, located on Whiskey Road, will have two components. One will be a full-service vet clinic and will provide low-cost spay and neuter services. The other, the Almost Home Wellness Center will house quarantine areas and medical services. It will expand upon the life-saving work done by HFGDR in South Carolina and Georgia in the ten years since the charity was founded.
The Almost Home facility will offer a sanctuary for dogs too ill to make the journey to their forever homes, which are mostly in northern states. By vetting and caring for the dogs until they are well enough to travel, HFGDR will be able to rescue more dogs that would otherwise be left behind. In addition, Almost Home will enable us to build stronger partnerships with local animal control facilities to ensure that it becomes the 'go-to' location for dogs in crisis.
Thanks to the commitment of a generous benefactor the land has already been purchased. HFGDR broke ground for the new facility on October 19, 2020. Construction company J. E. Stewart Builders has been contracted to build this unique dog sanctuary. Studio 3 Design Group from Augusta, Georgia has been chosen as the architect.
Almost Home will include quarantine areas and rooms for dogs convalescing from various surgeries and treatments. Among the other amenities are indoor and outdoor runs with fenced areas for daily exercise, socialization and training.
"Aiken was the natural choice for the new facility," said HFGDR co-founder, Toni Ann Turco. "Over the past ten years, we've developed strong relationships with many local residents, a number of whom have been fostering dogs. This development will not only prevent the unnecessary euthanization of many abandoned and unwanted dogs, but it will provide a central meeting place for all animal lovers in the community."
Turco and Richard Errico, both natives of New Jersey, founded Home for Good Dog Rescue in August 2010. HFGDR is unique to other canine rescue organizations in that all dogs are initially placed in foster homes before being adopted into their forever homes. This provides time for animals to learn to be family dogs in a caring environment before being placed in their permanent homes.
To date Home for Good Dog Rescue has saved and adopted out over 9,000 dogs. The new facility will enable many more dogs to be saved in the local community and equip HFGDR with the resources to sustain and enhance their live saving mission in Aiken. For more information about Home for Good please visit their website: HomeforGoodDogs.org.