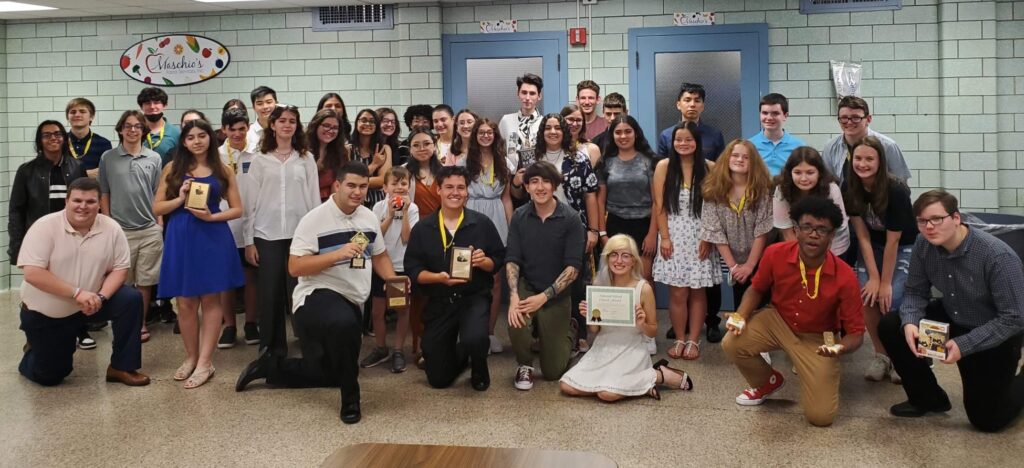 ALJ Music Awards 
Submitted by Nancy Morris
The Arthur L Johnson Music Department held its annual Music Awards Night recently. Parents and students got to enjoy dinner, while giving the seniors a proper send off. Mr. Eric Krebl, Music Director, handed out gifts and awards. Mr. Andy Calo, Assistant Music Director, presented a lanyard and one pin for each music program and group the students participated in. 

The following students received awards: Brandon Dias – Directors Award for Band, and Henry Varriano Music Spirit Award; Judah Gray – John Philip Sousa Award; Hailey Catron – National Color Guard Award; Kaitlyn Diaz – National Marching Band Award; Maria Guskind – National Choral Award; Mariana Milara – Fred Waring Director's Award; Judah Gray – Louis Armstrong Award; Seth Guzman – Woody Herman Award. Maria Guskind was awarded the ALJ Vocalist Scholarship.  

ALJ  High School has a large number of Music Programs including Concert Band, Marching Band, Jazz Band, Parade Band, Indoor Percussion, Choir and Choral.  If you have a child entering 8th thru 12th grade who Is interested in joining the ALJ Crusaders Marching Band please email mpaclarknj@gmail.com. Marching band camp will be held in August.
Courtesy photo