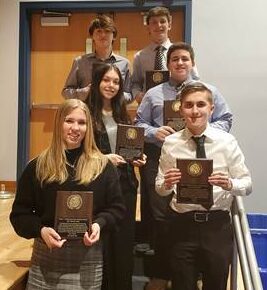 ALJ 2021-2022 Winter Athletic Awards 
Clark Public Schools 
The Arthur L. Johnson Athletic Department held its 2021 – 2022 Winter Athletic Awards Ceremony. The evening, sponsored by the Crusader Athletic Booster Club, was held in the Arthur L. Johnson Auditorium.
All the Winter Athletic Teams and their seasons were highlighted by their coaches while handing out letters and awards to the student athletes. Over 166 varsity athletic letters were handed out throughout the evening, as participation in athletics at Arthur L. Johnson High School (ALJHS) continues to grow.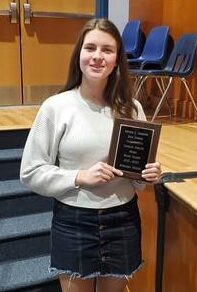 The Student Athlete Award, presented by ALJHS Athletic Director Gus Kalikas, is given out each athletic season to a student athlete that is not only a champion on the field, but in the classroom as well. This year's winter recipient is Dominika Kosiek who currently has a 4.63 GPA and is ranked fifth in her senior class.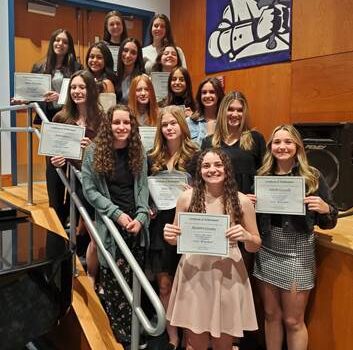 The Crusader GPA Challenge is awarded to the team that finishes with the highest overall GPA amongst athletic teams for the winter season. The recipients are presented with certificates, have their team memorialized on a plaque, and are invited for a "Breakfast with the AD" to celebrate their actions both in the classroom and on the field.
The GPA Challenge winners for this winter season currently have a GPA of 4.134. They are: Sophia Argenziano, Dominika Kosiek, Sarah Scepkowski, Sofia DiProfio, Vittoria Grady, Eva Puentes, Ashley Samsel, Georgia Sebok, Kaileigh Nettland, Lacey Vill, Isabella Ciccotelli, Alexandra Gonzalez, Alyssa Martucci, and Mackenzie Thompson.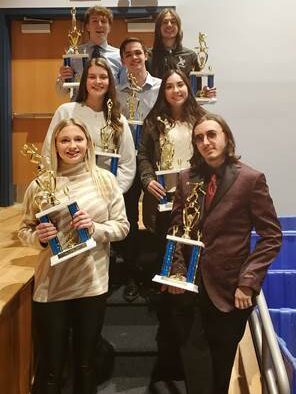 The Best Teammate Award is given out seasonally to one member from each athletic team who has an upbeat attitude, who positively influences teammates, who is supportive, promotes team unity, and has outstanding character. The Best Teammate Award Winners are: Boys' Basketball: Aidan Hund; Girls' Basketball: Sophia Argenziano; Ice Hockey: Zachary Silverstein; Boys' Winter Track & Field: John Brighouse; Girls' Winter Track & Field: Kelly Krupski; Swimming: Sean Brophy; Bowling: Gary King; and Cheerleading: Lisa Karnaugh.
The evening culminated with the announcement of the Most Valuable Players (MVP). The MVPs are: Boys' Basketball: Joseph Carney; Girls Basketball: Dominika Kosiek; Ice Hockey: Shaun Applin; Boys' Winter Track & Field: Aidan Ford; Girls' Winter Track & Field: Tatum Dobbins; Swimming: Jakub Szulimowski; Bowling: Kyle Perednia; and Cheerleading: Leila Thompson.
Athletic Director Gus Kalikas, commented: "Once again, our Winter Awards Program was a successful evening as it allows the District, Administration, and Coaches the opportunity to acknowledge a wonderful Winter Sports Season as well as recognize both student athletes and their parents alike for all that they have accomplished this past winter athletic season."