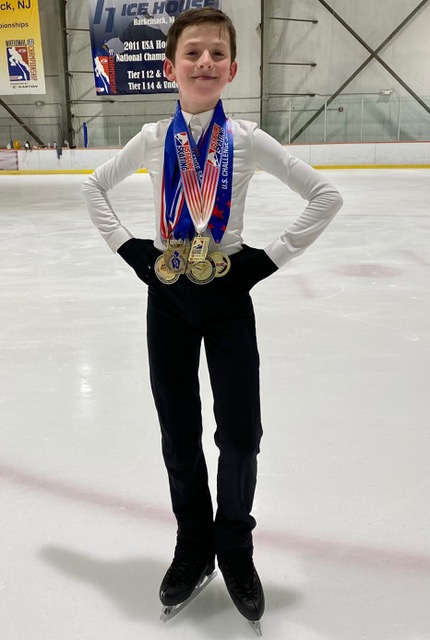 Aleksandr Fegan Repeats as National Skating Champ
Aleksandr "Sasha" Fegan, Cranford Resident and 5th Grade student at Livingston Avenue School, competed in the 2022 US Figure Skating Championship Series in Leesburg, VA and Norwood, MA. He won both series he competed in, and with the highest total score of all Intermediate Men skaters across the country, becoming the US National Champion for the second year in a row.
In 2021, Sasha became a National Champion after winning the 2021 US Championships at the Juvenile/Intermediate level in Figure Skating at the age of 10, the youngest competitor in the competition.
He also retained a spot at the US Figure Skating National Development Team and was invited to the prestigious US National Development Camp as well. The 2022 season was truly a perfect one for Sasha – he took home Gold in every single competition he entered (eleven in total, including two 2022 US National Series). It was an undefeated season!
Because of his success, Sasha was selected by an international committee to compete in his first international assignment in Europe, representing Team USA at the 2022 Challenge Cup in Tilburg, Netherlands on February 24-27. This was his international debut at the Advanced Novice Men level and he won a Silver medal for Team USA.
Sasha's parents, Irina and Jeffrey Fegan thanks his head coach Roman Serov and choreographer Nina Petrenko for their hard work and dedication. They also thank Livingston Avenue School, especially Sasha's 5th Grade teacher Mrs. Ferguson and secretary Mrs. Nancy La Shure, for providing great support and understanding particularly before Sasha's major competitions. 
Courtesy photos