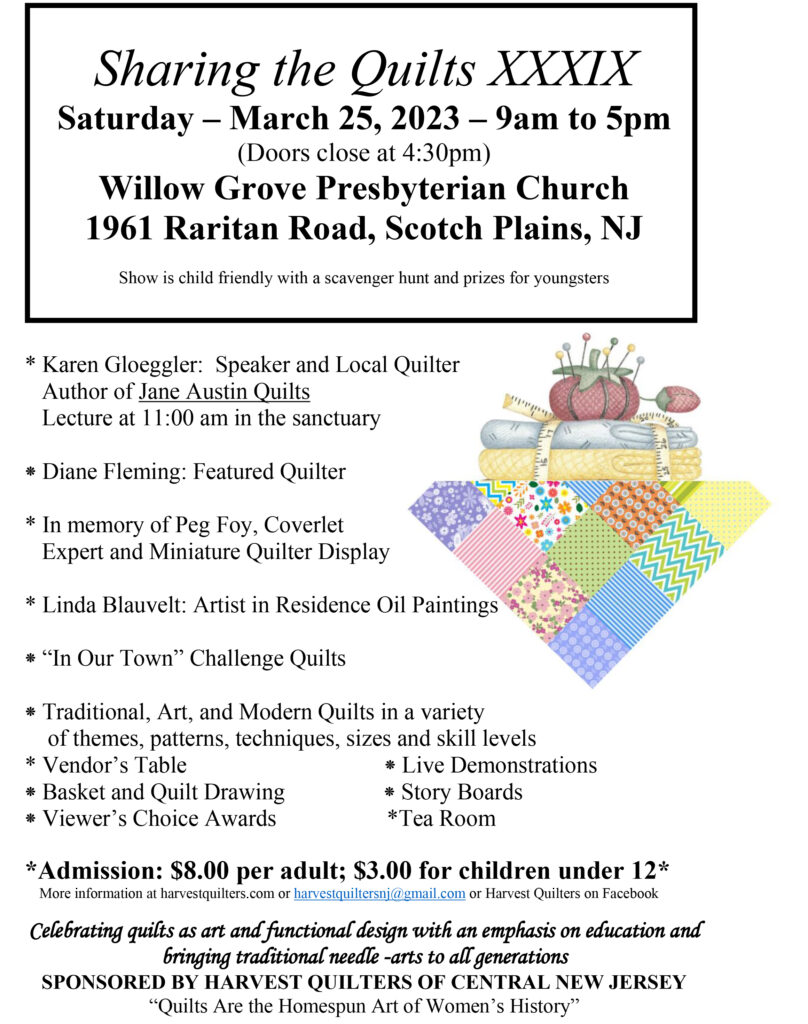 39th annual quilt show – March 25
Harvest Quilters of Central NJ will present their 39th annual quilt show on Saturday, March 25, 2023. Sharing the Quilts XXXIX will be held at the Willow Grove Presbyterian Church, 1961 Raritan Road, Scotch Plains NJ from 9 a.m. to 5 p.m. Adult admission is $8 and $3 for children under twelve.
As always, giving back will be at the heart of the show, with local charities benefiting from the sale of fabric and drawings for a quilt and fabric basket. A special display will feature several of the over 300 colorful pillowcases and lap quilts made by members and donated to a children's hospital under the umbrella of Ryan's Case for Smiles.
At 11 a.m., nationally recognized quilt book author Karen Gloeggler of Rahway will speak on "The Secrets to Preventing Unfinished Projects." The award-winning quilter is the author of "Jane Austen's Quilts Inspired by Her Novels" (available for purchase at the show) and "Crazy, Luscious Quilting" due out by the end of the year. 
Diane Fleming of Westfield will be honored as 2023 featured quilter. Known for creating one-of-a-kind king-sized works of her own design, Fleming's 13-year journey as a quilter will be explored through 20 spectacular themed quilts. "My interests in art history and watercolor painting influence my fabric and design choices," said the avid gardener and mother of three grown sons, who will also display examples of her painting and needlework.
Linda Blauvelt, artist-in-residence, will exhibit original oil paintings. A quilter for many years, she has branched out into this second art form, recently displaying her work at the Westfield Public Library. 
A memorial tribute will be on display for Peg Foy, coverlet expert and prolific miniature quilter. Late Harvest Quilters founder Ann Eelman will also be remembered.
In addition to viewing a full array of modern, traditional bed-sized, art and wall hanging quilts, attendees can participate in viewer's choice awards, kid's scavenger hunt, vendor area and a tearoom for snacks or lunch. 
For more information, please visit harvestquilters.com