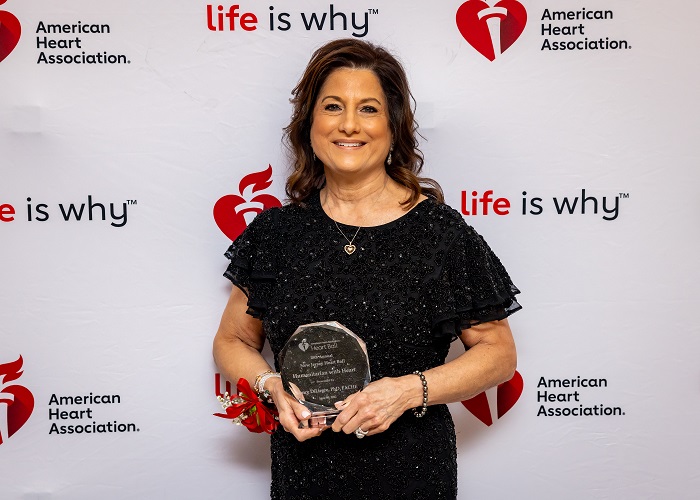 Humanitarian With Heart Award
Nancy DiLiegro, PhD, FACHE, Chief Clinical Officer, Vice President of Clinical Operations and Physician Services at Trinitas Regional Medical Center, an RWJBarnabas Health facility, has been recognized by the American Heart Association (AHA) with the Humanitarian With Heart award. The Humanitarian With Heart is awarded to an outstanding person who is a dedicated volunteer and/or philanthropist promoting the AHA mission of building healthier lives, free of cardiovascular diseases and stroke. Dr. DiLiegro accepted the honor at the annual New Jersey Heart Ball on Friday, June 10 at the Crystal Plaza in Livingston.
"The American Heart Association's recognition of Dr. DiLiegro with the Humanitarian With Heart award is a testament to her long-standing commitment to the prevention of cardiovascular disease and stroke," said Gary S. Horan, FACHE, President & Chief Executive Officer of Trinitas. "Her tireless dedication to education and advocacy around preventive cardiovascular care throughout her career has helped countless individuals and families at Trinitas and across our region build healthier lives."
Dr. DiLiegro joined Trinitas in 2002 and throughout her tenure at the hospital she has helped establish and oversee several programs dedicated to improving cardiovascular health including the Cardiovascular Center of Excellence, the implementation of emergent and elective angioplasty procedures, and the expansion of the Cardiac Catheterization Lab. Her work at the hospital has helped Trinitas earn Mission: Lifeline EMS and STEMI recognitions from the AHA.
Dr. DiLiegro has dedicated herself to stewardship and volunteerism throughout her career and has served as a member of numerous national and regional organizations, including the Northern New Jersey Board of the American Heart Association where she served as chair for a four-year term and as a board member for 15 years. She was also a member of the Founders Affiliate/Eastern States Affiliate Board of the American Heart Association and served on the American Heart Association Executive Leadership Committees. She has helped implement several AHA initiatives at Trinitas including Target: BP, Workplace Wellness, the Better U Challenge and Go Red for Women. Nancy also served as governor for the American College of Healthcare executives.
"The mission of the American Heart Association is to be a relentless force for a world of longer, healthier lives and acknowledging individuals who are dedicated volunteers and/or philanthropists is very important to us," said Robert Hilkert, MD, FACC, FAHA, chair of the American Heart Association Northern New Jersey Regional Board of Directors. "Nancy DiLiegro and her work deserve recognition, and we are so thankful for her devotion to building a world free of cardiovascular disease and stroke."
Dr. DiLiegro has previously been awarded the Woman of Distinction Award and the Heart Champion Award from the AHA.
About Trinitas Regional Medical Center
Trinitas Regional Medical Center, an RWJBarnabas Health facility, was established in 2000 following the consolidation of Elizabeth General Medical Center and St. Elizabeth Hospital. Previously in 1990, Elizabeth General acquired the Alexian Brothers Hospital, also in Elizabeth. The spirit of the three Elizabeth hospitals lives on in Trinitas, a major center for comprehensive health services for those who live and work in Central New Jersey. Trinitas is a Catholic teaching medical center with Catholic oversight provided by the Sisters of Charity of Saint Elizabeth. With 12 Centers of Excellence across the continuum of care, Trinitas has distinguished itself in cardiology, cancer care, behavioral health, renal care, nursing education, diabetes management, wound healing, breast health, senior's healthcare, women's healthcare, and sleep medicine. For more information, visit rwjbh.org/trinitas-regional-medical-center/, or follow us on Facebook, LinkedIn, Instagram, and Twitter.
Courtesy photo