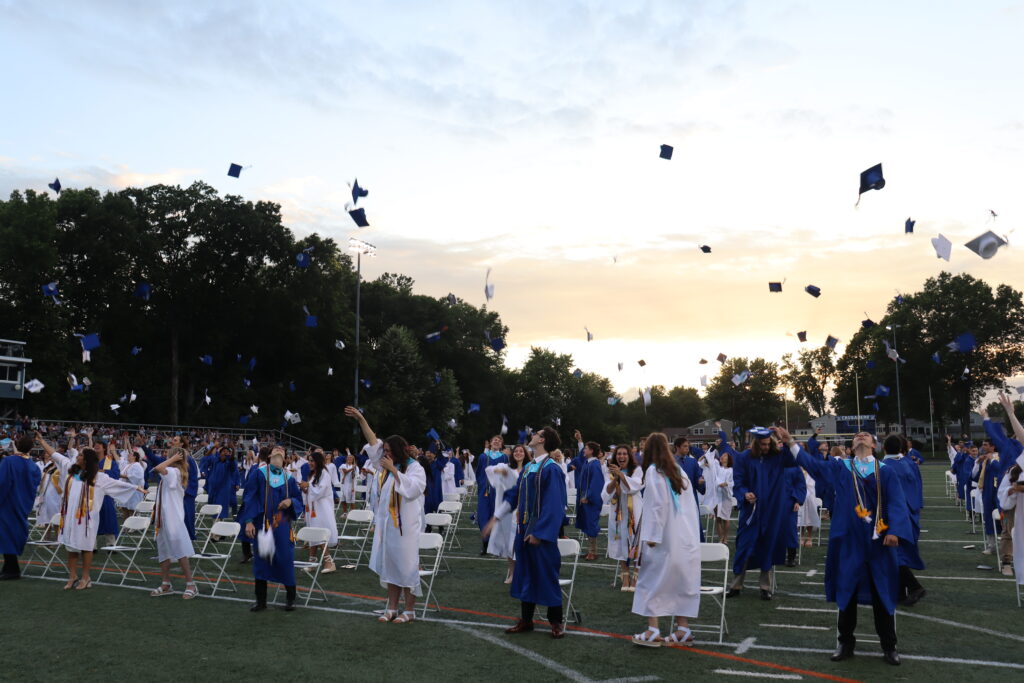 2022 ALJ Commencement Ceremony
Clark Public Schools
On Thursday, June 24th, Arthur L Johnson High School held its sixty-sixth commencement ceremony. The event was attended by Board of Education President Steven Donkersloot, Board of Education members, Clark Mayor Sal Bonaccorso, Clark Superintendent Edward Grande, family members, teachers, administrators, and other community members.
As tradition dictates, Assistant Principal, Joseph Cardinale, served as master of ceremonies for the event. Ashley Belverio led the opening ceremony with the Pledge of Allegiance, followed by Maria Guskind singing a very moving rendition of the Star Spangled Banner.
Salutatorian Phillip Brennan gave an impassioned speech harkening back to elementary and middle school. "Remember, embracing change is not as scary as it seems."
Shannon Heaning, president of the student council, spoke about the many accomplishments the members of the class have had. "I recently read someone say 'I wish we knew we were living in the good old times before we were out of them." She closed by saying, "Hard work pays off. Congratulations to the Class of 2022."
Ashley Belverio, Senior Class President, spoke of the Covid experience that they endured since 2020, and finally reached the near-normal year of 2021-2022. "Appreciate the little things in life. Don't take anything for granted. It can be lost in an instant."
After Belverio's speech, the ALJ Select Choir under the direction of band director Erik Krebl, sang "Time of Your Life" by Green Day.
Valedictorian Christopher Warnick encouraged the graduates to "walk your own path, no matter what that path is. Nothing is guaranteed but an unknown future doesn't have to be scary."
Steve Donkersloot, Board President, encouraged students stating, "20 years from now you will be more disappointed by the things you didn't do, than by the things you actually did. Explore. Dream. Discover."
Superintendent Ed Grande presented Sophia Argenziano with the perfect attendance award for not missing a single day in four years of high school. He followed this with his own comments to the class. "This class has received $13.6 million dollars in scholarships. They continue their education in prestigious schools, trade schools, and let's not forget those who have committed to protect our nation in military service."
Finally, Jennifer Feeley, principal of ALJ, addressed the graduating class. This is Feeley's last graduating class of her career since she is retiring after 29 years of being a teacher and administrator in Clark Public Schools. "You are firm, compelling and driven. These are everything a Crusader is made of, she said in closing.
Following the speeches, Phillip Brennan and Christopher Warnick called out all the names of the graduates, as members of the Board of Education took turns bestowing them to the recipients. Cardinale closed the ceremony by announcing, "Ladies and gentlemen, I give you the ALJ Class of 2022!"
Photos by Clark Public Schools