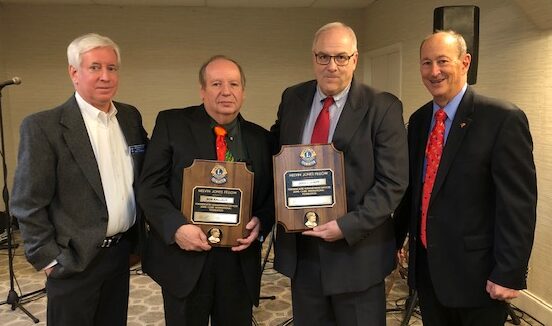 2021 Melvin Jones Fellowship 
New Providence Lions Club 
The New Providence Lions Club recently honored John Everitt and Bob Kallaur with the Melvin Jones Fellowship.
The Melvin Jones Fellowship was established in 1973 as Lions Clubs International Foundation's (LCIF) highest form of recognition to acknowledge an individual's dedication to humanitarian service.
John Everitt moved his IT business to New Providence in 1986. Impressed by the sense of community, volunteerism, and commitment to NP community development, John joined the ranks of local volunteers by getting involved with a variety of committees, clubs, and associations. He states, however, that his "favorite is the NP Lions Club," of which he was president from 2017-2018.
Bob Kallaur and his family moved to New Providence in 1981. He has been a Lion for 11 years, serving as club secretary from 2013-2019. Bob has volunteered in town for over 25 years, serving on the leadership committees for the Cub Scouts and Boy Scouts, the NPHS Bandwagon, several Borough committees, and the New Providence Planning Board for 11 years. He also coached youth sports in the NP Recreation program.
These two longtime volunteers have made a great positive difference in the New Providence community and embody the motto of Lions International—We Serve.