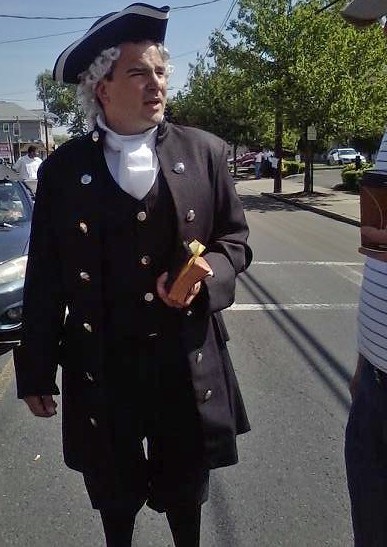 (pictured) Reverend James Caldwell, portrayed by reenactor Doc Burkhardt
Hannah Caldwell Day 2015 will be commemorated by the Union Township Historical Society with an open house at the Caldwell Parsonage Museum, 909 Caldwell Avenue, Union, from 2 to 5 pm on Sunday, June 7.
Visitors will be greeted by Hannah's husband, the Reverend James Caldwell, portrayed by reenactor Doc Burkhardt, who will tell the story of his wife's untimely passing and his involvement in the American Revolution as "the Fighting Parson."
On that date in 1780, following the Battle of Connecticut Farms (most of which was fought in front of the Connecticut Farms Presbyterian Church, 888 Stuyvesant Avenue, Union), Mrs. Caldwell—the mother of their nine children—was killed inside their home by a retreating British soldier.
Rev. Caldwell used her death as a rallying cry for the Patriot cause and, in doing so, helped recruit additional members for the New Jersey militia and George Washington's Continental Army.  Just over two weeks later—on June 23, 1780— the British and Hessian forces were turned back yet again, this time at the Battle of Springfield, and thereby prevented from reaching George Washington and his troops in Morristown.  That was the last major battle of the war in the North.
Admission to the event is free.  For more information, call Barbara La Mort at908-687-0048.