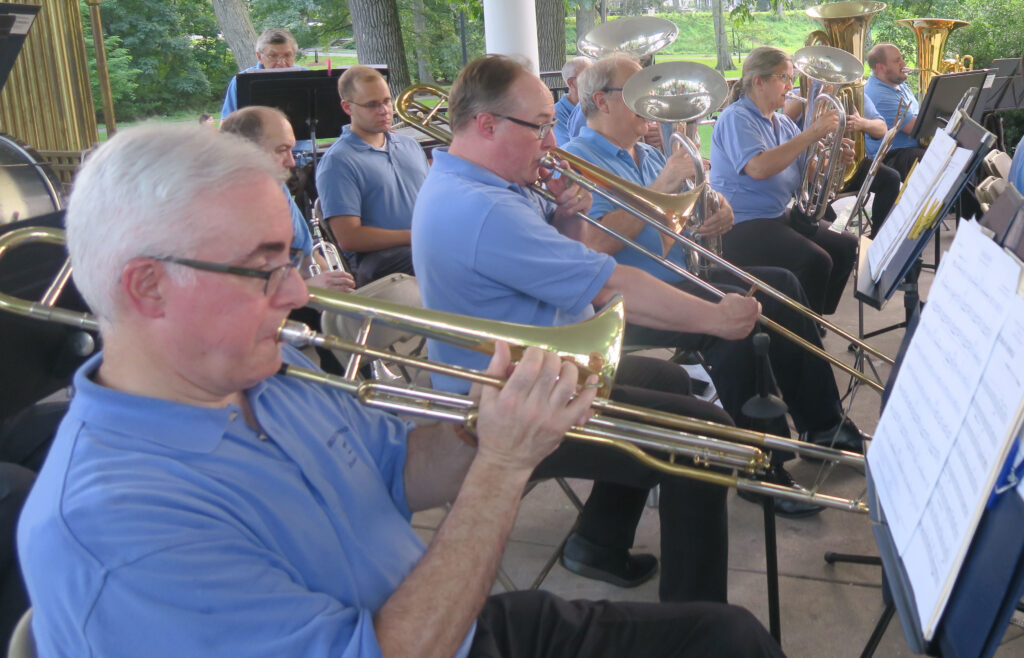 110th Season – Summer Concert Series
Submitted by Barry Rosenberg
The Westfield Community Concert Band, under the direction of Dr. Thomas Connors, continues its 110th season with its annual Summer Concert Series in Mindowaskin Park, East Broad Street, Westfield. The band will be performing four Thursday evening concerts on June 23 and 30, July 7 and 14. All concerts begin at 7:30 p.m. and are free to the public. Highlighting this season's summer concerts will be a special Independence Day program taking place on June 30th featuring   appearances by the Westfield Chapter of the Sons of the American Revolution and the Westfield Town Crier. The concert series will also include performances of popular classical selections, including Light Cavalry Overture, Die Fledermaus and Ballet Parisian. All of the band's summer concerts will include popular Broadway selections, marches, classical works and many patriotic compositions.
After suspending its 2020 performance season and having an abbreviated performance schedule in 2021, the band was able to resume its weekly rehearsal schedule in March, 2022 to prepare for this season's summer concerts. The band has been fortunate to welcome many new musicians this season, including Brian Csobor on tuba, Art Allgauer on trombone, John Jewczyn on trumpet, Murray Solomon on clarinet, Jean Bucholz on flute and Nolan Willence on trumpet. The band also welcomed the return of a few former members, including Joseph DeRosa on clarinet, Matthew Paden on saxophone, Isaiah James on clarinet and Michael Conway on euphonium.  The band also welcomed the return of Dr. Theodore Schlosberg on euphonium. Dr. Schlosberg is a former conductor of the band, having served in that role from 1972 to 1978.  
The band rehearses each Wednesday evening from 7:00 to 9:30 p.m. in the Community Room in the Westfield Municipal Building, 425 East Broad Street. The band's membership includes musicians from ages 18 to 90, including many active and retired music educators. Under the baton of conductor Dr. Thomas Connors, director of Instrumental Music Studies and an assistant professor of music education at Kean University, the band continues to perform a wide variety of concert band literature, including many contemporary compositions. Experienced area musicians who are interested in a position with the band should contact band manager Barry Rosenberg at 908-337-9073 or info@westfieldcommunityband.com.  
The band's Summer Concert Series is sponsored in part by the Westfield Recreation Department, Don Bogardus, Director, and is made possible by funds from the Union County Office of Cultural & Heritage Affairs, a partner of the New Jersey State Council on the Arts.
Chairs and blankets are recommended.   In the event of rain, the concerts will take place in the Westfield Community Room, located in the Westfield Municipal Building, subject to Covid-19 conditions.