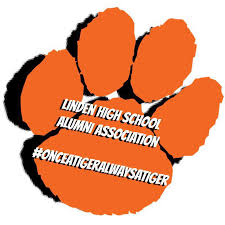 LHS Alumni Association Celebrates Five Years
Submitted by Roshorn Shivers Jr.
The Linden High School Alumni Association has reached a monumental moment in the organization's history – celebrating five years as an organization, founded on the principle of giving back to the Linden community.
The organization was established on June 12, 2015 by Roshorn Shivers Jr., with his vision of giving back to the community of Linden, New Jersey. The organization currently has eight truly motivated and dedicated individuals serving on the Board of Directors ready to take the organization to the next level.
To celebrate their fifth anniversary, the Board of Directors organized a number of virtual activities on Instagram for followers to reminisce on their years at Linden High School. The virtual celebration ended on Friday, June 12 with a Presidential Address through Instagram and Facebook live, along with celebrating this year's scholarship recipients.
"I started out in this association when there were no members and no one knew who we were. Now, we're becoming more locally known and the impact is noticeable. We have so many things coming up and as challenging as the past few years have been to start up, I'm more excited for what is to come in the upcoming years," says Lynette Hendricks, who is the Vice President of the Linden High School Alumni Association, and is a part of the Class of 2015.
"Linden High School Alumni Association is growing to be an important part of the community. We strive to not only help LHS graduates with financial assistance, but also look to support them with guidance and advice via our mentorship program. In our fifth year the LHSAA looks to expand its program and provide more assistance to outstanding graduates," says Alex Cerna, MBA. Alex Cerna is the Business Administrator of the Linden High School Alumni Association, and is a part of the Class of 2010.
Within the last 5 years, the Alumni Association has given out seven academic scholarships to graduating Seniors, along with participating in the annual College Day fair at Linden High School to emphasize the importance of giving back post-high school graduation.
About Linden High School Alumni Association
The Linden High School Alumni Association is an organization where community-minded Linden High School graduates can partake in service towards the City of Linden and future generations of Linden High School students. We strive to develop an environment of career networking and business opportunities among the ranks of membership. We give the opportunity for Alumni to maintain a politically independent voice, never to engage in outside politics but to serve the greater community of Linden graduates as a whole. The Association provides undergraduate scholarships through fundraising efforts coordinated with Linden graduates of all ages across all classes, past, present, and future. We also assist in the facilitation of Linden High School Class Reunions.