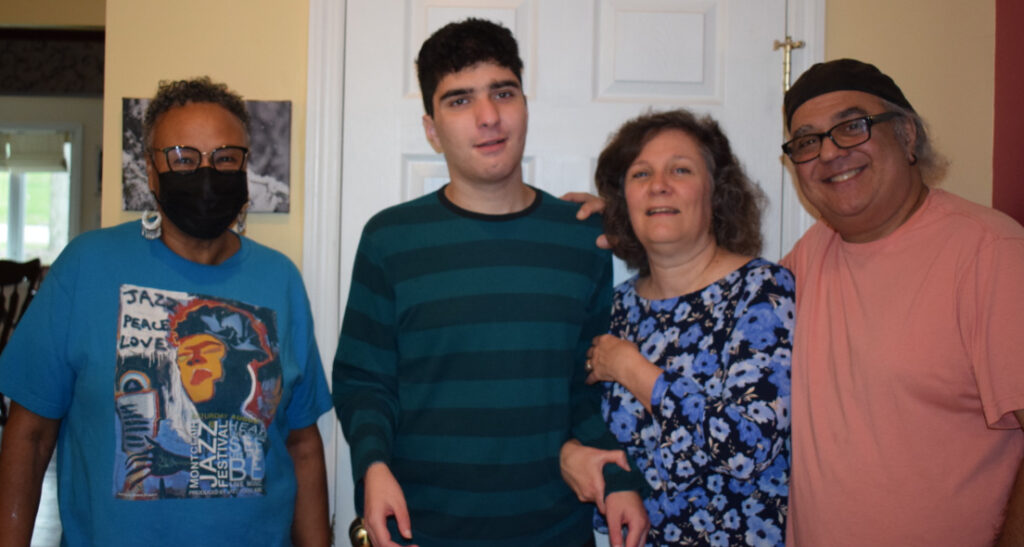 Family Caregivers Weathering COVID-19
Submitted by Erin Jerome
Having reached a dead end in his career, Thomas Corea decided to become a stay-home dad when his son, TJ, was 18 months old. Not long after that, he and his wife, Carol, discovered TJ was on the autistic spectrum. Thomas Corea has been the family caregiver for his son, now 26, ever since.
While Thomas Corea is a very positive person – he is a musician by trade – he often found it daunting to deal with the system that is in place to provide people with disabilities and their families the supports they need.
"Unless you stand on a mountain and scream, you get nothing," he said. "You try to keep your head above water and their head above water to keep them safe."
According to estimates from the National Alliance for Caregiving, 65.7 million Americans serve as family caregivers for an ill relative or a relative with a disability. Per the Administration for Community Living, research indicates family caregiving takes a significant emotional, physical and financial toll. With nearly half of all caregivers over the age 50, many are vulnerable to a decline in their own health, they say. Studies show that coordinated support services can reduce caregiver depression, anxiety and stress.
To ease that stress, Thomas Corea turned to Community Access Unlimited, first for direct support services while TJ was in school, then for respite services when he turned 21. Monique St. Claire is the family's support counselor, providing the family with 6.5 hours of respite support one day each week. St. Claire takes TJ on short trips, such as to outside events.
"TJ's mother and father need a break because he takes a lot to handle," St. Claire said. "I'm getting him out of the house and giving his parents respite…He gets frustrated when he doesn't get what he wants. But I can reason with him and then he says with a sweet voice, 'Okay.' It's very endearing."
St. Claire's support became even more important when Covid-19 hit the United States and all TJ's other supports stopped. St. Claire is back to visiting weekly.
"He lost all his routine," Thomas Corea said. "He lost his sense of day and night. He needs constant attention…Now that he has it back, he's back to normal."
CAU plays a major support role for thousands of family caregivers and has not abated its services during Covid. Yet the agency is facing drastic increases in expenses related to the pandemic and is asking for help.
"CAU is working hard to keep our members and staff safe during the pandemic and we continue to incur significant expenses, such as personal protection equipment," said Bernadette Griswold. "We are asking people to consider becoming a monthly donor – 100 percent of their donations will support ongoing safety measures and program expenses as we continue to support individuals and families with special needs in New Jersey."
Griswold said there are three ways people can support the agency: volunteering their time, advocating for CAU members, or donating directly via the agency's website or choosing CAU as their charity of choice on Amazon Smile and eBay for Charity. To learn more, visitcaunj.org/support-us/.
To learn more about CAU, visit caunj.org or follow the agency on Facebook, Twitter and Instagram. Learn more about supporting the agency and become a monthly donor atcaunj.org/support-us/.
CAU is Hiring! Community Access Unlimited continues to expand and we have a number of full time and part time openings available. Contact our HR department at 908-354-3040 ext. 4203 to learn more! For a full list of available positions, visit caunj.org
About Community Access Unlimited
Community Access Unlimited (CAU), celebrating more than 40 years in 2020, supports people with special needs in achieving real lives in the community. CAU provides support and gives voice to adults and youth who traditionally have little support and no voice in society. CAU helps people with housing, life skills, employment, money management, socialization and civic activities. CAU also supports opportunities for advocacy through training in assertiveness, decision-making and civil right. CAU currently serves more than 5,000 individuals and families, with the number served growing each year. For more information about CAU and its services, contact us by phone at 908-354-3040, online atcaunj.org or by mail at 80 West Grand Street, Elizabeth, NJ 07202.