When:
September 14, 2019 @ 7:30 pm
2019-09-14T19:30:00-04:00
2019-09-14T19:45:00-04:00
Where:
Salem Roadhouse Cafe
829 Salem Rd
Union
NJ 07083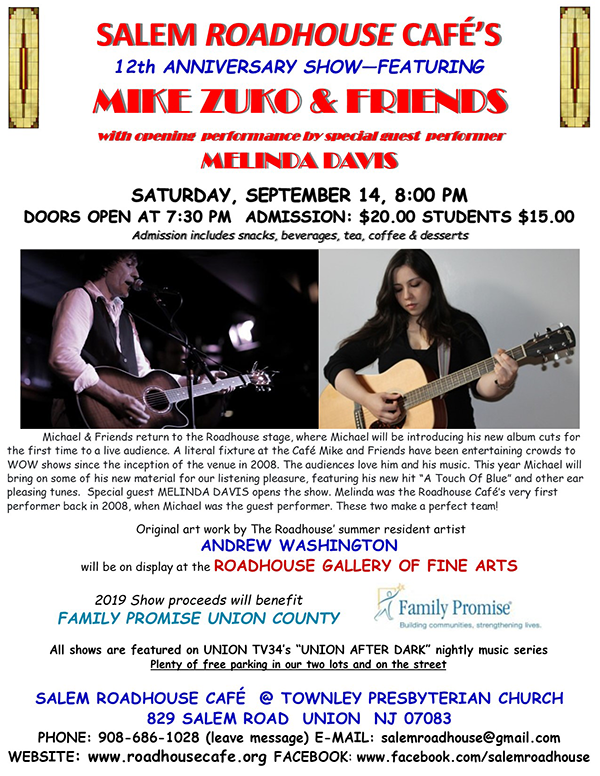 Mike Zuko & Friends with Melinda Davis to perform at Salem Roadhouse Cafe
The Salem Roadhouse Café proudly presents Mike Zuko & Friends with special guest Melinda Davis, performing on Saturday, September 14, 2019.
Mike Zuko has played the Roadhouse every October since its inception in 2008. Together with good friend Ray Powers, Mike and the band have always entertained us with solid, intelligent rock and pop, plying his craft eloquently with tunes that are memorable and, yes, even singable! (And NO autotune!) Mike and the band are considered as "family", because family always comes through. These guys have been loyal and true to us and to our cause. They are always willing to share the stage with newcomers, especially young people breaking into performing. These guys are really dedicated to the performing arts and music. At this years show, Mike will be presenting some of his new tunes from his new CD that he's working on, and will be sharing the stage with the original Roadhouse Headline act, Melinda Davis.
This show will feature original artwork by The Roadhouse's summer resident artist Andrew Washington, with his wild, colorful and glowing works on display for all to enjoy and experience at the Roadhouse Gallery of Fine Art.
All ages are welcome. It's a wholesome show, so bring the entire family!
Doors open 7:30 p.m. The show starts at 8:00 p.m. Admission is $20.00. Proceeds help local charities.
Plan now for an evening of great music in Northern New Jersey's Most Intimate Coffeehouse.
About Salem Roadhouse Café
Dedication best defines the Salem Roadhouse Café: dedication to excellent music and dedication to the community. Beginning its twelfth year, The Salem Roadhouse Café reaffirms its commitment to both.
Started in 2008 by members of Townley Presbyterian Church with a grant from the Presbytery of Elizabeth, the Roadhouse Café continues to operate as a non-profit that raises funds for several carefully chosen local charities. That may be its social mission… but the Roadhouse Café is and has been a solid performance venue beloved by the musicians who play there because of its special intimacy with the audience.
Church music, it's not
The Roadhouse Café has always offered its stage to local and independent mainstream musicians. It's a clean, safe place for people who enjoy listening to first class live music, in a world of clubs and bars. Jazz, rock, folk and other groups have performed. During the past eleven years well over 100 different entertainers have appeared. Local fine artists also display their works. The musicians who play the Roadhouse often ask to return as soon as possible. The Roadhouse has given them a place with a beautiful stage, good acoustics, a live, attentive audience, and a sound system that is first class.
Community orientation
The Salem Roadhouse Café has raised funds for many carefully chosen charities. They include: The Presbytery of Elizabeth E-port Center, Center For Hope Hospice, Community Food Bank, Monarch Housing, Angel Paws Animal Rescue, National MS Society, Haiti Disaster Relief, Hurricane Sandy Disaster Relief, The Union County YWCA Domestic Violence Program, Making It Possible To End Homelessness, Camp Johnsonburg, The Music Institute, Groundwork Elizabeth, Union Twp. Police "Santa In Blue" toy campaign and others. Thousands of dollars have been raised for these deserving charities.
Now beginning its twelfth year of operation, the Salem Roadhouse Café features many of the performers who have graced the stage in the past, as well as talent that is new to the Café stage. The current season benefits Family Promise Union County.
Admission includes the show, art displays, snacks, beverages and desserts.
Union 34TV records the shows for broadcast — so check out past shows on cable TV34. See the Roadhouse on Union TV Channel 34's "Union After Dark" nightly music series.
Salem Roadhouse Café is located at 829 Salem Road, Union, NJ. Visit online at roadhousecafe.org or facebook.com/roadhousecafe.
Check our Events Calendar for More Local Events