When:
April 13, 2019 @ 7:00 pm – 10:00 pm
2019-04-13T19:00:00-04:00
2019-04-13T22:00:00-04:00
Where:
Salem Roadhouse Cafe
829 Salem Road
Union NJ
Contact:
Salem Roadhouse Cafe
908-686-1028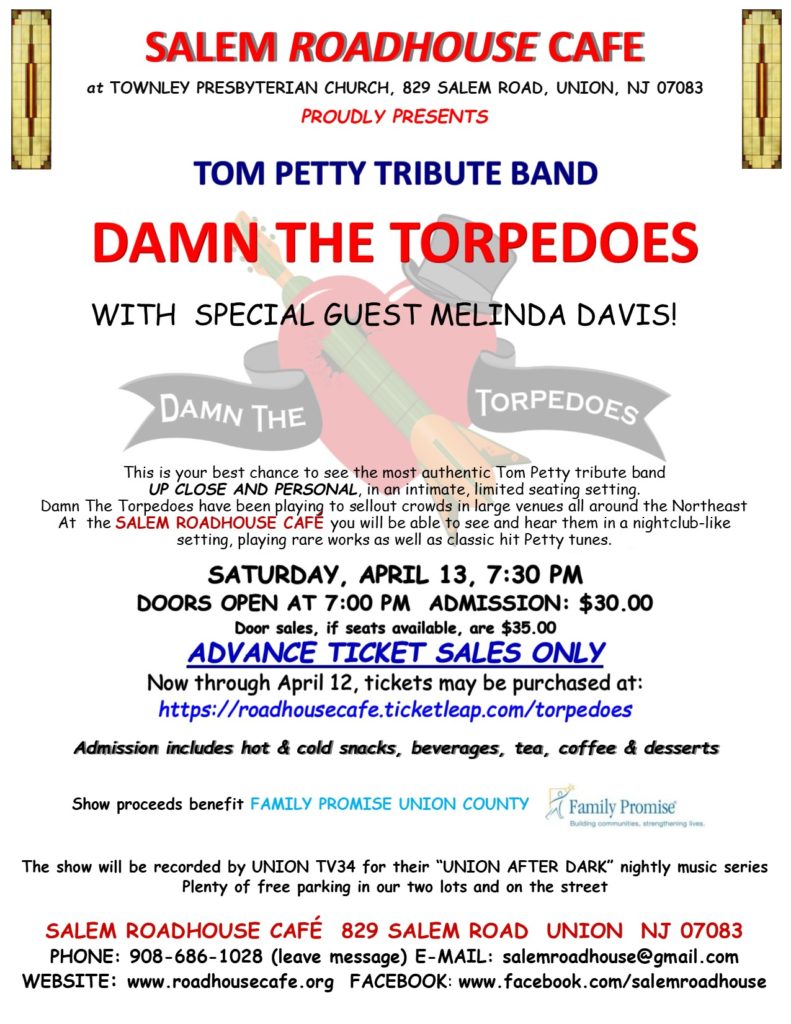 Tom Petty Tribute Band, Damn the Torpedoes, to Perform at Northern New Jersey's Most Intimate Coffeehouse
The Salem Roadhouse Cafe proudly presents Damn The Torpedoes, a Tom Petty tribute band, with special guest Melinda Davis, performing on Saturday, April 13, 2019. This is your best chance to see the most authentic Tom Petty tribute band up close and personal, in an intimate, limited seating setting. Damn The Torpedoes have been playing to sellout crowds in large venues all around the Northeast.
At the Salem Roadhouse Cafe you will be able to see and hear them in a nightclub-like setting, playing rare works as well as classic hit Petty tunes. Fans won't want to miss this live event, up close and personal.
All ages are welcome. It's a wholesome show, so bring the entire family!
Doors open 7:30 p.m. The show starts at 8:00 p.m. Admission is $30.00. Tickets are advanced sales only, available online at roadhousecafe.ticketleap.com/torpedoes. Plan now for an evening of great music in Northern New Jersey's Most Intimate Coffeehouse™. Admission includes the show, snacks, beverages and desserts.
Proceeds help local charity Family Promise – Building Communities, Strengthening Lives.
About Salem Roadhouse Café
Dedication best defines the Salem Roadhouse Café: dedication to excellent music and dedication to the community. In its tenth year, The Salem Roadhouse Café reaffirms its commitment to both. Started in 2008 by members of Townley Presbyterian Church with a grant from the Presbytery of Elizabeth, the Roadhouse Café continues to operate as a non-profit that raises funds for several carefully chosen local charities. That may be its social mission… but the Roadhouse Café is and has been a solid performance venue beloved by the musicians who play there because of its special intimacy with the audience.
Church music, it's not
The Roadhouse Café has always offered its stage to local and independent mainstream musicians. It's a clean, safe place for people who enjoy listening to live music, in a world of clubs and bars. Jazz, rock, folk and other groups have performed. During the past ten years well over 100 different entertainers have appeared. Local fine artists also display their works. The musicians who play the Roadhouse often ask to return as soon as possible. The Roadhouse has given them a place with a beautiful stage, good acoustics, a live, attentive audience, and a sound system that is first class.
Community orientation
The Salem Roadhouse Café has raised funds for many carefully chosen charities. They include: The Presbytery of Elizabeth E-port Center, Center For Hope Hospice, Community Food Bank, Monarch Housing, Angel Paws Animal Rescue, National MS Society, Haiti Disaster Relief, Hurricane Sandy Disaster Relief, The Union County YWCA Domestic Violence Program, Making It Possible To End Homelessness, Camp Johnsonburg, The Music Institute, Groundwork Elizabeth, Union Twp. Police "Santa In Blue" toy campaign and others. Thousands of dollars have been raised for these deserving charities.
Now well into its eleventh year of operation, the Salem Roadhouse Café features many of the performers who have graced the stage in the past, as well as talent that is new to the Café stage. The current season will benefit Family Promise.