When:
November 9, 2019 @ 8:00 pm
2019-11-09T20:00:00-05:00
2019-11-09T20:15:00-05:00
Where:
Salem Roadhouse Cafe
829 Salem Rd
Union
NJ 07083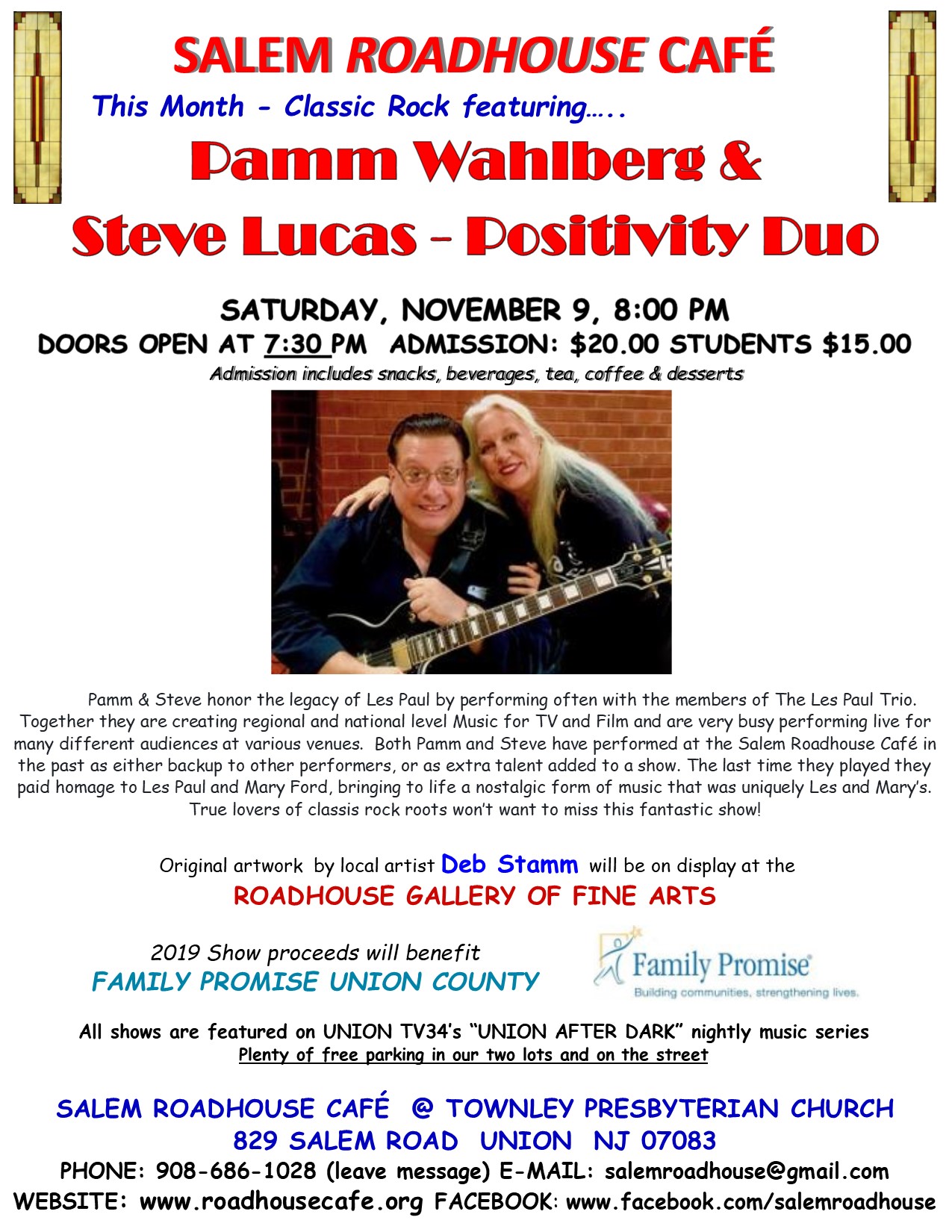 Salem Roadhouse Cafe November 2019
The Salem Roadhouse Cafe proudly presents Pamm Wahlberg and Steve Lucas, performing on Saturday, November 9, 2019.
Pamm and Steve honor the legacy of Les Paul by performing often with the members of The Les Paul Trio. They are creating regional and national level Music for TV and Film and are very busy performing live for many different audiences at various venues. Both Pamm and Steve have performed at the Salem Roadhouse Café in the past as either backup to other performers, or as extra talent added to a show. The last time they played they paid homage to Les Paul and Mary Ford, bringing a nostalgic form of music that was uniquely Les and Mary's. True lovers of classic rock roots won't want to miss this fantastic show! Music aficionados who know the history of Les Paul and Mary Ford will welcome this homage to the most influential music couple ever. Many serious guitar players recognize the incredible gifts that Les made to the music world.
Fans won't want to miss this live, up front and personal show. All ages are welcome. It's a wholesome show, so bring the entire family! Doors open 7:30 p.m. The show starts at 8:00 p.m. Admission is $20 and includes the show, snacks, beverages and dessert. Plan now for an evening of great music in Northern New Jersey's Most Intimate Coffeehouse™. Proceeds will help Family Promise of Union County.
About Salem Roadhouse Café
Dedication best defines the Salem Roadhouse Café: dedication to excellent music and dedication to the community. Now in its twelfth year, The Salem Roadhouse Café reaffirms its commitment to both.
Started in 2008 by members of Townley Presbyterian Church with a grant from the Presbytery of Elizabeth, the Roadhouse Café continues to operate as a non-profit that raises funds for several carefully chosen local charities. That may be its social mission… but the Roadhouse Café is and has been a solid performance venue beloved by the musicians who play there because of its special intimacy with the audience.
Church music, it's not
The Roadhouse Café has always offered its stage to local and independent main stream musicians. It's a clean, safe place for people who enjoy listening to live music, in a world of clubs and bars. Jazz, rock, folk and other groups have performed. During the past eleven years well over 120 different entertainers have appeared. Local fine artists also display their works.
Community orientation
The Salem Roadhouse Café has raised funds for many carefully chosen charities. They include: The Presbytery of Elizabeth E-port Center, Center For Hope Hospice, Community Food Bank, Monarch Housing, Angel Paws Animal Rescue, National MS Society, Haiti Disaster Relief, Hurricane Sandy Disaster Relief, The Union County YWCA Domestic Violence Program, Making It Possible To End Homelessness, Camp Johnsonburg, The Music Institute, and others. Thousands of dollars have been raised for these deserving charities.
The musicians who play the Roadhouse often ask to return as soon as possible. The Roadhouse has given them a place with a beautiful stage, good acoustics, a live, attentive audience, and a sound system that is first class. Live, active stage lighting enhances the shows.
The Salem Roadhouse Café often features many of the performers who have graced the stage in the past, as well as brings talent that is new to the Café stage. The current season is benefitting Family Promise Union County – Building Communities-Strengthening Lives.
Visit online at roadhousecafe.org or facebook.com/roadhousecafe. To reach by phone, call 908-687-1028, leave a message and a return number.
Check our Events Calendar for More Local Events