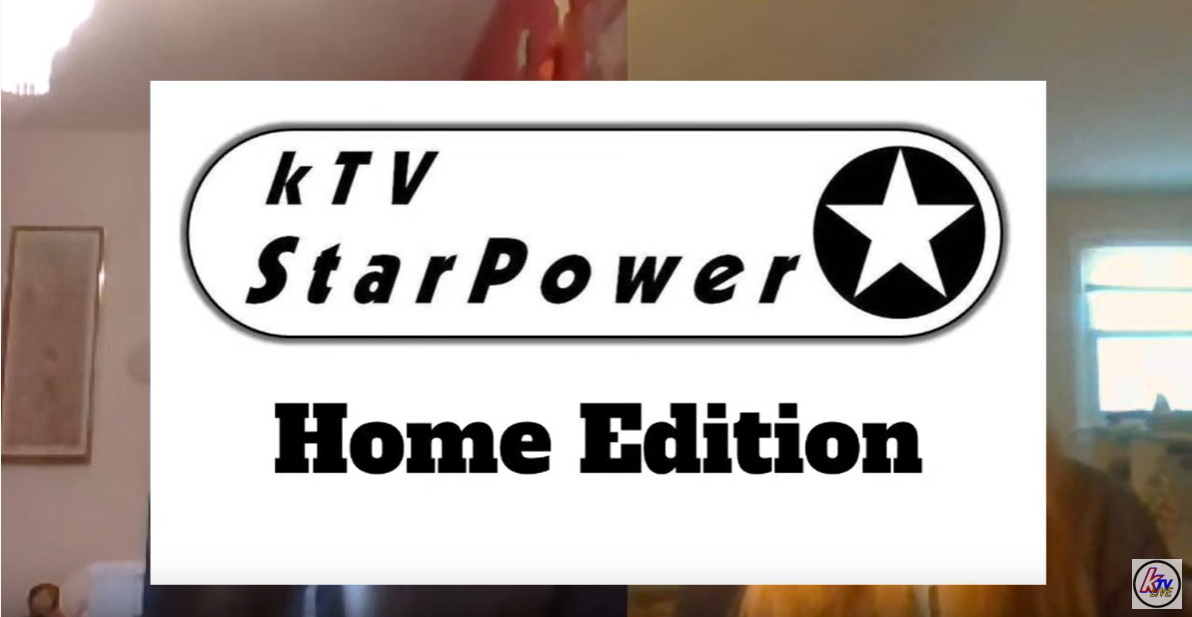 Kumpf Holds "kTV StarPower: Home Edition" Competition
Submitted by Christine Casale Broski
kTV StarPower is Carl H. Kumpf Middle School's annual lip sync contest, which started in 2012 in Clark. The kTV StarPower event has always showcased students' and teachers' lip sync videos that air on the school's daily student-produced television broadcast, kTV Live. These broadcasts typically culminate into live stage performances from the finalists at a special evening event. Even though kTV StarPower has already taken place this school year, a second "season" was added to act as Kumpf Middle School's first "virtual assembly" for the students to enjoy together online during the school day.
Since the students and teachers can only meet remotely via distance learning for the remainder of this school year, the event took place online via a live video stream on YouTube, with all videos from the contestants being pre-recorded. For the first time, contestants were also allowed to incorporate their family members into their lip sync performances, including parents and siblings.
kTV StarPower featured three teacher judges who provide "colorful" criticism and award each act up to five "stars" for each performance. Ms. Suzanne Hamilton, known by the students as the "cool" judge, stated that she likes lip sync acts with good "choreography and originality." She also said that she's always on the lookout for interesting fashion choices. Mrs. Cheri Fabrizzio, known as the "nice" judge, is usually reminding contestants to "be safe and appropriate" in their performances. "I love performances containing a lot of energy as well as those that look polished," Fabrizzio stated. Mrs. Kelli Yetsko tends to be a more "brutally honest" judge and is known to be labeled as "the mean judge" by the students. She stated that she is "looking for acts that put in a lot of forethought and really dedicate themselves to entertaining the audience."
In addition to the three teacher judges' scores, Kumpf students were also invited to score each contestant via online voting to help determine the winner. Each year, the winning performance wins $100.
"Our first kTV StarPower: Home Edition is so much fun!" Mr. Richard Delmonaco, Kumpf principal stated. "It is such a great diversion during this remote learning time and is a way to keep the school community connected. I really appreciate all the time and effort Mr. Serwedes and the kTV kids have committed to making this event happen!"
Kumpf's kTV program is produced by multimedia teacher Mr. Matthew Serwedes. This year marks kTV's 20th anniversary. Even though the school building is empty, kTV Live has still continued to create live broadcasts for the school every day via YouTube, with each kTV student staff member able to present their segments live from their homes, with live appearances from Kumpf teachers and staff.
Serwedes stated, "It was important for kTV to use their broadcast technology to create a sense of 'normalcy' to an otherwise difficult situation. The daily 'kTV Live' broadcasts and the 'kTV StarPower: Home Edition' virtual assembly were our ways to support the community and show how we can all persevere in a time of hardship. In preparation for kTV's 20th anniversary, Mr. Delmonaco allocated funding to upgrade all of kTV's studio equipment over the last few years, which fortunately already included the ability to live stream from any digital device worldwide. We are happy to use these new tools to help unite the community even when everyone has to be apart right now," Serwedes stated.
"kTV StarPower: Home Edition" can be viewed via the school's YouTube page at: youtube.com/kumpftv.
Photo by Clark Public Schools