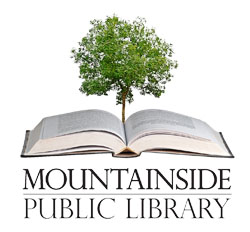 Mountainside Public Library June 2022
Children's Programs
Cuddle Storytime
Tuesdays at 10am.
A story time for young listeners, up to 23 months with their caregivers.
Preschool Storytime
Tuesdays at 1:45pm.
Longer stories for good Listeners ages 3,4 and 5-years-old.
Morning Family Story Time
Thursdays at 10am.
Favorite stories for all ages with their caregivers.
After School Story Break
Thursdays at 3:45pm.
Join us for longer stories for good listeners of all ages.
Grab & Go Crafts
available every week.
Registration only by email. No phone calls. Please send to Elizabeth Perrin
eperrin@mountainsidelibrary.org
Adult Programs
The Great Courses
Mondays 2pm.
Friday Movie Series
at 2pm.
To register call the library 908-233-0115.
Programming for adults is via Zoom.
Astronomy Adventure
Wednesday June 8th at 7pm.
presented by Paul Cirillo
Register at info@mountainsidelibrary.org
Funding for programs is generously provided by the Friends of the Mountainside Library.
Summer Reading
Oceans of Possibilities is the theme for Summer Reading at the Mountainside Public Library. Open to adults and children of all ages.
There will be weekly raffles of best sellers and a Grand Prize at the completion of the program. The more you read, the more chances to win.
Join in the fun by stopping by to pick up a registration packet. Start logging your books on June 20th.