When:
January 10, 2020 @ 7:00 pm – 10:00 pm
2020-01-10T19:00:00-05:00
2020-01-10T22:00:00-05:00
Where:
Atelier Rosal
74 East Cherry Street in Rahway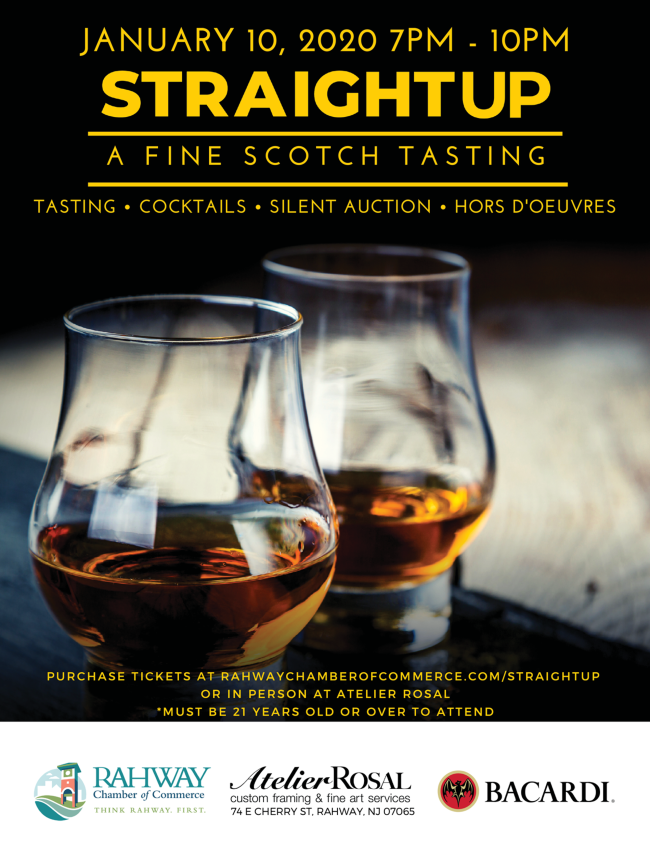 Straight Up – A Fine Scotch Tasting
The Rahway Chamber of Commerce invites all to Rahway's fine Scotch whisky tasting event – Straight Up!
The gathering will feature a sampling of fine Scotch whiskies. In addition to the tasting seminar, attendees will enjoy hors d'oeuvres, a cocktail-making class, silent auction, and more. Attendees will also receive a free commemorative glass.
Proceeds from this event will support the Rahway Chamber of Commerce in its work to support and nurture Rahway's business community, including its annual Business Grants Program, which to date has provided $10,000 in grants to local businesses.
Only 50 tickets are available for this exclusive event. Tickets are available for sale at www.rahwaychamberofcommerce.com/straightup or in person at Atelier Rosal, located at 74 East Cherry Street in Rahway. Tickets are $85 each if purchased on or before December 13. After that date, any remaining tickets will be available for $100. Cocktail attire is preferred for this event.
Must be 21 years old and over to attend.
Sponsorship opportunities are available for this event. For more information, please contact Heidi Loder-Rosal at (848) 236-5027/heidi@atelierrosal.com or Audra Loccisano at (516) 330-9824/audraloccisano@gmail.com
Check our Events Calendar for More Local Events