When:
March 27, 2020 @ 6:00 pm – 8:30 pm
2020-03-27T18:00:00-04:00
2020-03-27T20:30:00-04:00
Where:
JTG Recreation Center
330 Helen Street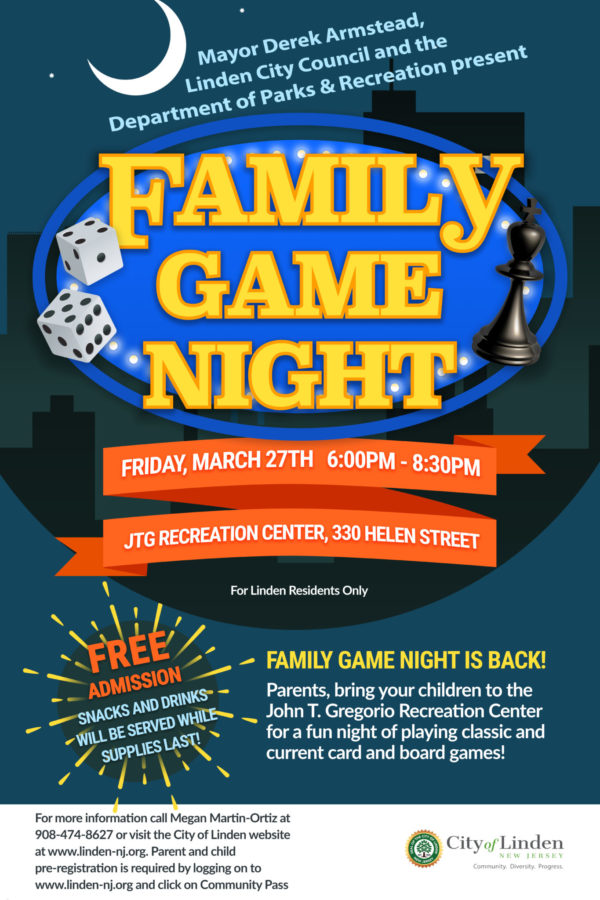 Family Game Night – March 27
A Family Game Night for Linden families will be held on Friday, March 27, 2020 from 6:00 p.m. to 8:30 p.m. at the JTG Center located at 330 Helen Street in Linden, NJ. All Linden residents are welcome to bring their families to this free event. This is a great way to wean youth away from technology and to bond with their families and friends by interacting and playing board games. Pre-registration is required for all families attending.
Registration will be accepted Monday-Friday at the following facilities:
JTG Recreation Center, 330 Helen Street (9 a.m. – 4 p.m.);
Community Center Building, 605 South Wood Avenue (9 a.m. – 4:30 p.m.)
Linden Multi-Purpose Center, 1025 John Street (9:30 a.m. – 7 p.m.)
Or you may register online at linden-nj.org and click on Community Pass.
For all future Game Night listings, residents can visit the Linden website at linden-nj.org or tune to Channel 36 for flyers and updated community news. For more information, please call Mrs. Martin-Ortiz at 908-474-8627. The Parks & Recreation office is located on the second floor at 605 South Wood Avenue.
Check our Events Calendar for More Local Events