When:
October 10, 2019 @ 7:30 pm
2019-10-10T19:30:00-04:00
2019-10-10T19:45:00-04:00
Where:
Reeves-Reed Arboretum
165 Hobart Ave
Summit
NJ 07901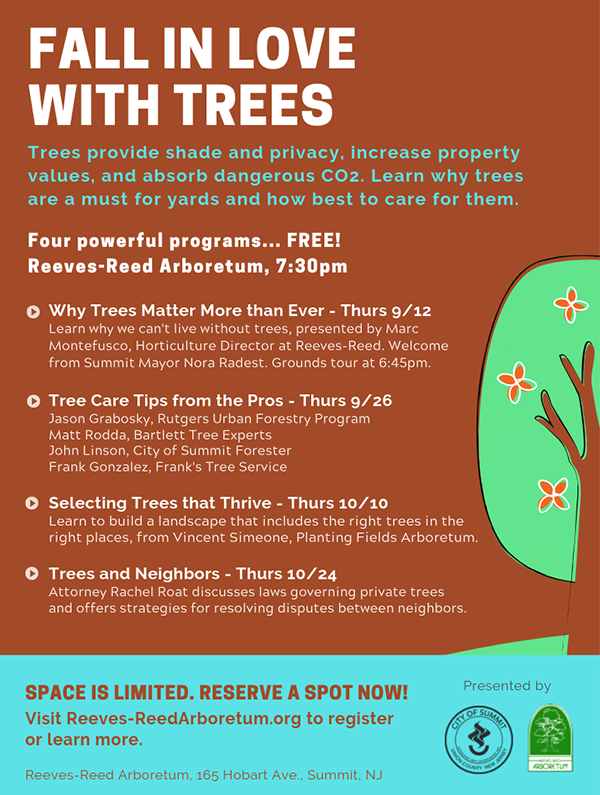 Reeves-Reed Arboretum – Fall In Love With Trees
Submitted by Amy Cairns
Reeves-Reed Arboretum, together with the City of Summit's Shade Tree Advisory Committee, presents Fall In Love With Trees – four powerful programs about why trees are a must for yards and how best to care for them. Trees provide shade and privacy, increase property values, and absorb dangerous carbon dioxide. Miss the sessions in September? Join Summit neighbors for these exciting and informative sessions in October.
Selecting Trees that Thrive – Thursday, October 10. Learn to build a landscape that includes the right trees in the right places, from Vincent Simeone, Director of Planting Fields Arboretum.
Trees And Neighbors – Thursday, October 24. Attorney Rachel Roat discusses laws governing private trees and offers strategies for resolving disputes between neighbors.
The programs will take place at Reeves-Reed Arboretum, 165 Hobart Avenue Summit, NJ, starting at 7:30 p.m. There is no charge for these sessions, but space is limited, and reservations are encouraged. Reserve your spot now at reeves-reedarboretum.org
This series is presented by the City of Summit's Shade Tree Advisory Committee and Reeves-Reed Arboretum.
Celebrating over 40 years as a historic public garden and education resource, Reeves-Reed Arboretum engages, educates and enriches the public through horticulture and environmental education, and the care and utilization of the gardens and estate. Open 7 days a week, the Arboretum is listed on both the National and New Jersey State Historic Registers. Funding for RRA has been made possible in part by the NJ Historical Commission, a division of the Department of State, through a grant administered by the Union County Office of Cultural & Heritage Affairs, Dept. of Parks & Community Renewal.
Check our Events Calendar for More Local Events