When:
September 27, 2019 @ 8:00 pm
2019-09-27T20:00:00-04:00
2019-09-27T20:15:00-04:00
Where:
Cranford CDC Theatre
78 Winans Ave
Cranford
NJ 07016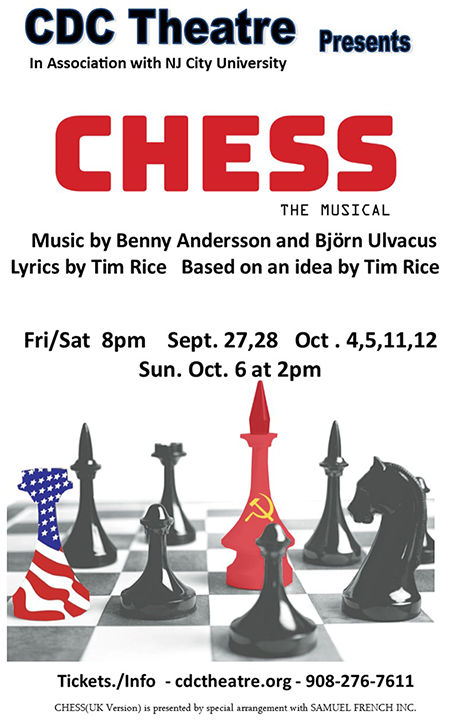 The Rock Opera Chess Will Open CDC Theatre's 102nd Season
The 2020-2021 season at CDC Theatre in Cranford will open with the complex rock opera Chess, with lyrics by Tim Rice and music by Benny Andersson and Björn Ulvaeus of ABBA fame. In the musical the ancient game becomes a metaphor for romantic rivalries, competitive gamesmanship, super-power politics and international intrigues.
The pawns in the drama form a love triangle: the loutish American chess star, the earnest Russian champion and the Hungarian American female assistant who arrives at the match with the American but falls for the Russian. From Bangkok to Budapest, the players, lovers, politicians and spies manipulate and are manipulated to the pulse of a monumental rock score that includes the international pop hits "One Night in Bangkok" and "I Know Him So Well".
"In addition to Chess being one of the most beautiful musical scores ever written, what excites me about the show is that it is at once a historical representation of the Cold War and a very timely exploration of US/Russia political relations given present day tensions.", said director Edgar Hidalgo. "CDC Theatre is producing the original London stage version of Chess, with the addition of "Someone Else's Story" from the Broadway production. We are excited to be presenting Chess in association with the New Jersey City University (NJCU). Students and alumni of NJCU are represented on-stage and in the orchestra, and the university's musical theatre and music departments are providing support in other areas of the production."
Information on how to get tickets can be found by visiting cdctheatre.org, with the best selections and prices available on-line.
Check our Events Calendar for More Local Events