May
26
Sun
2019
Kenilworth Veterans Mass at St. Theresa Church

@ St. Theresa's Church
May 26 @ 9:00 am – 10:00 am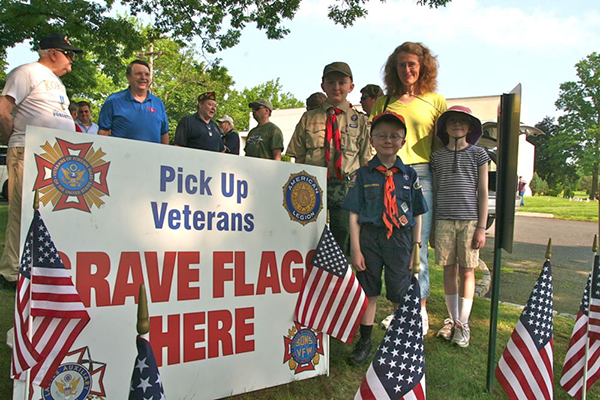 Kenilworth VFW Post 2230 May Events in Honor of Memorial Day
VETERAN GRAVE FLAG PLANTING MAY 25th
The public is invited to join Veterans from VFW Post 2230 and local scout troops for an annual tradition of walking through Graceland Memorial Park Cemetery in Kenilworth, NJ to find headstones of veterans and plant a flag at the grave to commemorate Memorial Day. This very touching event begins with a breakfast assembly at the Kenilworth VFW Hall at 8 a.m. on Saturday, May 25th. Refreshments are served at the VFW afterwards for all workers. No preregistration is required. The VFW organizes the event along with the American Legion, Sons of the VFW, and the Ladies Auxiliary.
Mass at St. Theresa Church, Sunday, May 26th
The public is invited to attend mass at 9 a.m. in honor of all veterans.
MEMORIAL DAY SERVICES, MONDAY, 27TH
The public is invited to attend a ceremony honoring all veterans at 11 a.m. at the Kenilworth Veterans' Center, S. 21st Street., Kenilworth, NJ. Refreshments will be served afterwards.
There is no registration required for these events. For more information please call the Kenilworth Veterans Center at 908- 276-9769.
Poppy Drive, May 1st thru May 31st
Members of the Kenilworth VFW Post 2230 will be outside the Kenilworth Acme supermarket selling poppies throughout the month of May. The symbolic red flower is worn on Memorial Day to commemorate the sacrifice of so many men and women who have given their lives fighting for their country. The Poppy program provides financial assistance to veterans' rehabilitation and service programs at Lyons Hospital, and the VA hospital in East Orange, NJ.
Union Township Revolutionary War Encampment

@ Friberger Park
May 26 @ 1:00 pm – 4:00 pm

Revolutionary War Encampment & Living History, Sunday May 26th
Township of Union – History will come to life on Sunday, May 26th as re-enactors from New Jersey and other states arrive for the Township of Union's Pre-Memorial Day Encampment. This special event, in its 5th year, focuses on the life and times of soldiers during the Revolutionary War. The encampment will be held from 1 pm to 4 pm.
"We are one of the very few townships in the county that provide this experience for our residents and our youth" stated Mayor Michele Delisfort. "To have the opportunity to see, smell, and touch history is truly a once-in-a-lifetime experience."
Highlights of the encampment include firing demonstrations and drills, learning about life at camp, how soldiers cooked outdoors, and there will also be live cannon fire.
All activities are free and take place at Friberger Park, behind Town Hall located at 1976 Morris Avenue, Union, NJ 07083.
For more information please visit uniontownship.com or contact us at publicinfo@uniontownship.com or call 908-851-5096.
WEBSITE:  www.uniontownship.com
Submitted by Natalie DaSilva
Rahway's Memorial Day Parade 2019

@ Parade Location
May 26 @ 1:30 pm – 3:00 pm
RAHWAY MEMORIAL DAY PARADE – Sunday, May 26
The Rahway Veterans Central Committee invites the community to attend the Memorial Day Parade to be held on Sunday, May 26, 2019 starting at 1:30 p.m. The parade will begin on Main Street and Milton Avenue, Rahway, New Jersey. The Grand Marshal this year will be Dean Wasylyk.
Dean Wasylyk served in the Navy from 1964 to 1967. He was 18 years old when he enlisted after he graduated East Brunswick High School. He served in Vietnam from 1964 to 1965 on the USS Katmoi replenishing ships with ammunition and explosives and also worked with the landing crew removing wounded soldiers. Dean was then sent to serve on a PBR (Patrol Boat River) on the Nakong Delta.
After Vietnam Dean was assigned to the USS Columbus, a guided missile cruiser where he was a 3rd class boatswain mate and was sent to the Mediterranean and Europe.
Dean completed a naval training course and was awarded the State of New Jersey Distinguished Service Citation and was given a 25thanniversary commemorative metal.
Dean is married to Karen for 21 years. The couple resides in Edison.