May
4
Sat
2019
Preacher and Comedian at Wilson Memorial

@ Wilson Memorial Church
May 4 @ 7:00 pm – 8:30 pm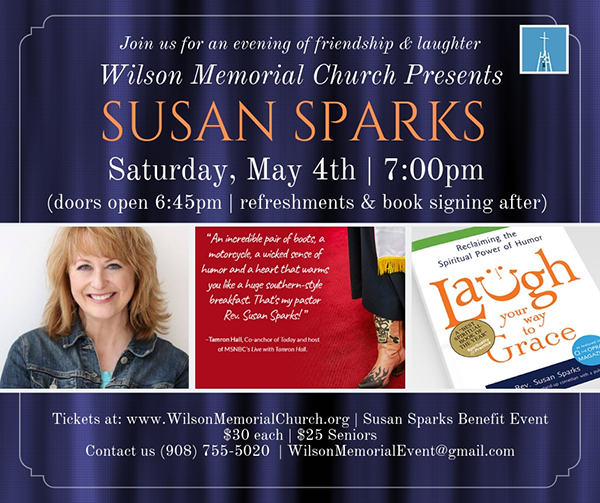 PREACHER AND COMEDIAN TO PERFORM AT WILSON MEMORIAL May 4th
Wilson Memorial Union Church, in Watchung, will present Susan Sparks, a stand-up comedian, on Saturday, May 4, 2019 at 7 p.m.  It will be a Benefit event to support the Church's Outreach programs. A book signing and light refreshments will follow the performance.
Rev. Susan Sparks, trial lawyer turned preacher and stand-up comedian, is the Senior Pastor at Madison Avenue Baptist Church, NYC and the author of Laugh Your Way to Grace and the soon to be released, Preaching Punchlines: The Ten Commandments of Standup Comedy.
Tickets are $30 and are available through the church's website: wilsonmemorialchurch.org.
The performance will benefit the church's outreach programs including Starfish of Plainfield – which provides emergency food assistance,  Neighborhood House – early childhood education center,  Atlantic Home Care, Overlook Hospice, Haiti Partners – working to enhance education in Haiti, and World Neighbors – which works to alleviate hunger and poverty.
May
11
Sat
2019
Watchung Garden Club's Plant Sale 2019

@ Best Lake parking lot
May 11 @ 9:00 am – 12:00 pm
The Garden Club of Watchung's Annual Home-Grown Plant Sale
The Garden Club of Watchung's Annual Home-Grown Plant Sale will take place at Best Lake parking lot in Watchung on Saturday, May 11, 2019 from 9:00 a.m. to noon. Come early because our plants sell quickly!
Our plant sale is unique because the plants we offer have been grown and donated by our members. We have a wide selection of perennial plants that do well in our climate and most are deer resistant.
The plant sale is one of our major fundraisers. Proceeds enable us to carry out our community service projects. You will see us planting flowers on the Watchung Circle in May, give us a wave as you drive by! For our Watchung Library, we support a summer children's program, decorate the children's reading room in winter, and plant flowers in the spring in the Shakespeare garden. We mentor the fourth grade Youth Gardening Club at Bayberry School. Two of our members are on the Traffic and Beautification Commission of Watchung Borough. Our garden behind the Watchung Arts Center is filled with deer-resistant perennials. The Blue Star Memorial garden on Somerset Street honors those who have served and are serving to protect our country. Additionally, we contribute to organizations that protect and add beauty to our environment.
Interested in becoming a member? Give us a call 908-754-5766.
Submitted by Vonnie Mott
9TH ANNUAL WARREN WATCHUNG GREEN FAIR

@ Warren Middle School
May 11 @ 10:00 am – 1:00 pm

9TH ANNUAL WARREN WATCHUNG GREEN FAIR
The Warren Watchung Green Fair will be held on Saturday, May 11, 2019 from 10:00 a.m. till 1:00 p.m. at the Warren Middle School, 100 Old Stirling Road in Warren Township.
This event is sponsored by the Warren Township Committee under the guidance of the Warren and Watchung Borough Green Teams.
There will be activities, environmental information, an electric car display, and recycling collections of hard-to-dispose-of items.
The entire community is invited to this fun and engaging free event!