Apr
26
Fri
2019
Scotch Plains Relay for Life Event

@ Scotch Plains Fanwood High School
Apr 26 @ 6:00 pm – 8:00 pm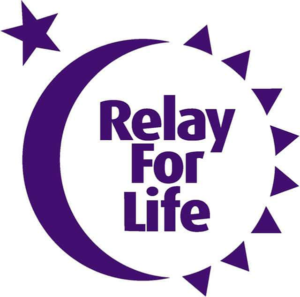 American Cancer Society and Scotch Plains Are Attacking Cancer in Our Community Through Relay For Life Event
On Friday, May 10, 2019, local participants will join together at the annual Relay For Life of Scotch Plains at Scotch Plains Fanwood High School to help beat our biggest rival – cancer. The event starts at 5 p.m.
Scotch Plains Fanwood High School faculty member and advisor Ashleigh Boyce states, "The Student Movement Against Cancer is a club that began in 2001 at Scotch Plains-Fanwood High School to raise awareness and funds in honor of a SPFHS student fighting cancer. For eighteen years SMAC has worked to continue to broaden their demographics. I see the amount of work that these students put in year-round to ensure that we not only bring awareness to our fight against cancer but to also raise funds for the many important treatments, lodging, support options, and programs for those who are fighting this battle. Relay For Life of Scotch Plains is deeply moving and emotional – a celebratory night for all who are in attendance. We celebrate our survivors in attendance, honor our loved ones, and enjoy games, inflatables, and food trucks. Our Relay For Life event focuses on the courage of our survivors, caregivers, and cancer fighters while also celebrating the lives of those who are no longer with us. Although our theme for our Relay For Life event changes each year, our main message remains, and that message is HOPE."
The American Cancer Society (ACS) is the only organization fighting cancer on every front. Funds raised from Relay For Life events allow the ACS to attack cancer in dozens of ways, each of them critical to achieving a world without cancer – from developing breakthrough therapies and innovative research, to building supportive communities that come together to help those affected by cancer with access to treatment. The ACS provides empowering resources to deploying activists to raise awareness and develop game-changing approaches to address the cancer burden for all people.
Founded by Dr. Gordy Klatt in Tacoma, Washington, in 1985, the Relay For Life movement of 3.5 million participants across the world unite at more than 4,500 events to celebrate people who have been touched by cancer, remember loved ones lost, and take action for lifesaving change. Symbolizing the battle waged around the clock by those facing cancer, the event can last up to 24 hours and empowers communities to take a stand against cancer. Since 1985, Relay For Life events in the U.S. have raised more than $6.3 billion.
Last year's fundraising totals from the community was $100,000+. Thank you to all our local sponsors. The Relay For Life of Scotch Plains is supported by local businesses and organizations.
Together, we can beat our biggest rival. Join or donate to the Relay For Life of Scotch Plains. Visit RelayForLife.org/ScotchPlainsNJ.
Submitted by Elizabeth Rodoussakis
Apr
27
Sat
2019
Earth Day Rahway River Clean-up
Apr 27 @ 8:45 am
Earth Day Rahway River Clean-up – Saturday, April 27, 2019
Submitted by Joe Seebode
All volunteers are invited to celebrate Earth Day with Boy Scout Troop 330, Cub Scout Pack 30 and members of the Rahway River Watershed Association in a clean-up of the Rahway River on Saturday, April 27th, 2019 (with a rain date of Sunday, April 28th). The clean-up will focus on areas upstream and downstream of the dam at Winfield Park, New Jersey. It is our hope to have enough folks participate that we can have teams work as far upstream as the Garden State Parkway and downstream through Rahway River Park in Clark, Linden and Rahway. Plans are to meet at the parking area adjacent to the waterfall of the Rahway River by the dam at Winfield Park at 8:45 a.m. This is a great way to celebrate Earth Day and if you haven't participated in an event like this before, you will find it invigorating, and you will feel good about what you have accomplished…it is also fun and educational…especially for scouts and young adults as they always find something interesting.
The clean-up will generally be between 9 a.m. – 12 p.m., but any amount of time or effort that folks can volunteer is appreciated. There is always a large volume of floatable debris to pick up. This includes tires and of course floatables (cans, bottles, plastics, etc.). The County of Union generously supplies gloves and garbage bags, and we solicit material donations (donuts, bagels, coffee, bottled water, paper towels, hand-wipes, etc.) for all volunteers.
Last year, over 100 folks participated, including girl scouts, cub scouts, boy scouts, fishermen, local activists and citizens, and we pulled some amazing things from the river. Sponsors came through with coffee, bagels, danish, donuts, cookies, bottled water, and juice boxes, and we had grilled hot dogs for lunch. We also had other giveaways for the participants.
All participants should wear jeans, long-sleeved shirts, gloves and boots, and waders are welcome for folks who like to get a little wet. Each participant should bring a standard 5-gallon carry bucket with a handle (put your name on the bottom)…this makes for easy carrying of "stuff" for transfer to the large garbage bags. When we complete the event we do a basic inventory of the "big stuff" that we removed….and within approximately 24 hours Union County Parks removes and disposes of all the trash. There is no RSVP required but if you need more information or think you will attend please let us know by e-mail at rivercleanup@comcast.net.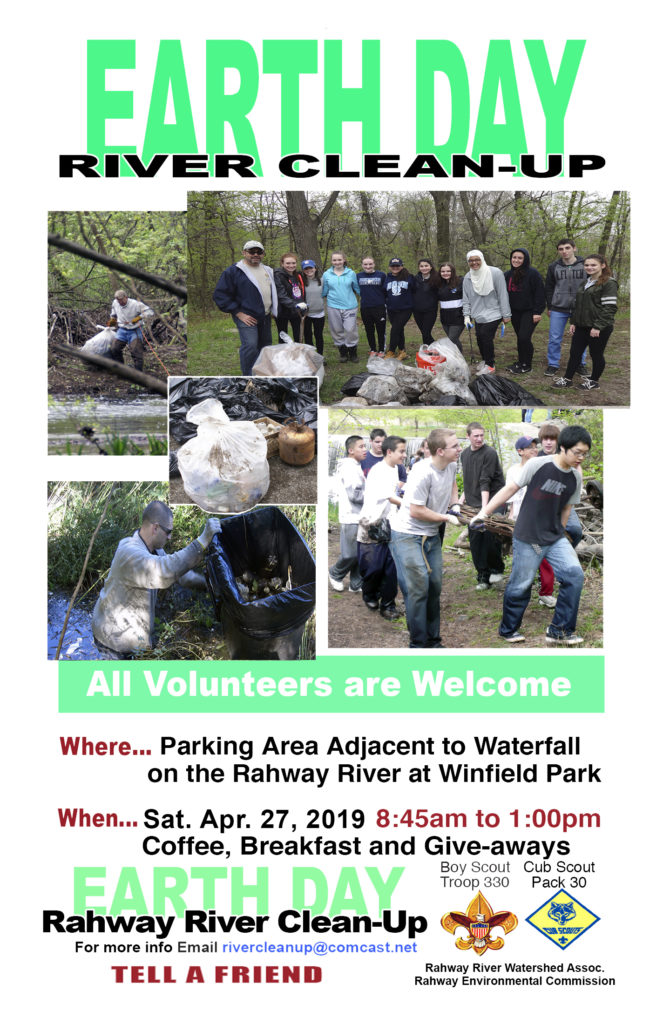 Scotch Plains Party for the Planet

@ Alan Augustine Village Green
Apr 27 @ 9:00 am – 12:00 pm

TOWNSHIP OF SCOTCH PLAINS
OFFICE OF ALEXANDER MIRABELLA
Municipal Manager 
PRESS RELEASE
Scotch Plains Announce Green Team Events in Celebration of Earth Day
The newly-appointed Scotch Plains Green Team is gearing up for Earth Day 2019 as it works with the Township Council towards Sustainable Jersey certification. "I am committed to working alongside the Green Team and the township to make Scotch Plains a greener, more sustainable community," says Councilwoman Elizabeth Stamler, the governing body's liaison to the Green Team and the Environmental Commission. "It's important for residents to know that small changes can have a big impact."
A variety of activities are planned, including:
On Thursday, April 18 at 6:30 p.m., join the Green Team for a free screening of the documentary, "The Bin Project," at the Scotch Plains Library and sponsored by the Union County Board of Chosen Freeholders.  Bring your water in a reusable water bottle; this is a No Plastic Bottle event! Movie snacks will be provided! Be sure to sign the Keep Scotch Plains Green pledge and find out about the town-wide plastic bag reduction campaign. The JCC of Central Jersey will be sponsoring a plastic bag collection and free reusable shopping bags will be available.
On Saturday, April 27 from 9:00 a.m. to noon, join us at the Party for the Planet being held on the Alan Augustine Village Green next to the municipal building on Park Avenue. The Department of Parks & Recreation is teaming up with the Green Team to bring you a morning of activities including music by Bash the Trash and the annual free tree distribution. You can also learn the do's and don'ts of recycling, make a craft, plant some seeds and more!
At the Party for the Planet, you can Recycle Your Bicycle and drop off your gently used outgrown bike. Our bike experts from Dairy Queen in Plainfield will give it an overhaul and get it back on the road for a child in need.  You can also learn more about the town-wide plastic bag education campaign featuring distribution of reusable bags in exchange for your plastic ones. Use the bags at local businesses with the Green Team sign in the window to keep Scotch Plains a clean, safe and sustainable community.
The Scotch Plains Green Team is a group of residents, township volunteers and business representatives who work with the Mayor and Township Council to create policies and practices that provide a clean, safe and sustainable community to live, work and play for this and future generations.
For more information about all of these events, please visit www.scotchplainsnj.gov or call 908-322-6700 ext. 314
MUNICIPAL BUILDING
430 Park Avenue Scotch Plains, NJ 07076
Municipal Manager:   Alexander Mirabella   *   908-322-6700 Ext.315   *    amirabella@scotchplainsnj.com
Media Contact:   Margaret Heisey   *    908-322-6700 Ext.314   *    mheisey@scotchplainsnj.com