Jul
17
Wed
2019
Celebrate the Decades at The Chelsea at Warren: 1940s Themed Bingo

@ The Chelsea at Warren
Jul 17 @ 10:00 am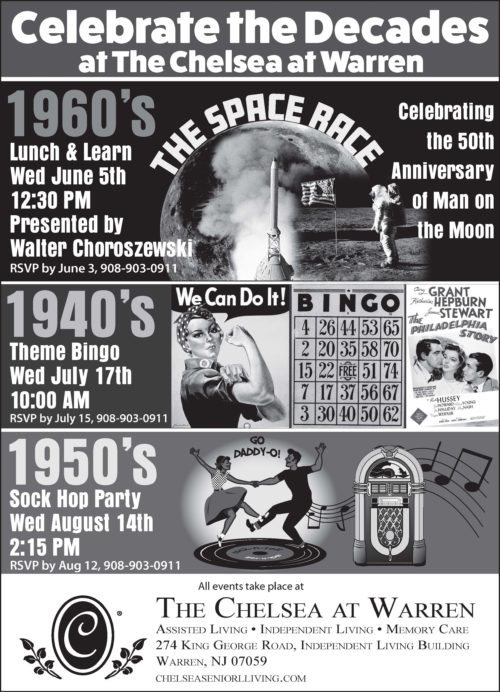 Celebrate the Decades at The Chelsea at Warren
The Chelsea at Warren has announced their Summer Series of events. The theme of each event will be based on a different decade. The public is invited to attend, We Hope to See You There!
Lunch and Learn at "The Space Race"
Wednesday, June 5th at 12:30p.m.
RSVP by June 3rd
Try your luck at 1940's "Themed Bingo".
Wednesday, July 17th at 10:00am
RSVP by July 15th
Bounce around at our "Sock Hop Party"
Wednesday, August 14th at 2:15pm
RSVP by August 12th
908-903-0911
Fanwood-Scotch Plains Rotary Weekly Meeting

@ Stage House Restaurant
Jul 17 @ 12:15 pm – 1:15 pm
Join us any Wednesday for Lunch
At the Stage House Inn, Park Avenue, Scotch Plains
If you would like to make a difference in the community and learn more about Rotary, you can attend a Wednesday lunch meeting at 12:15 pm at the Stagehouse Restaurant in Scotch Plains.   For more information, you can visit their website at www.fsprotary.org or follow them on Facebook.
Luncheon, with fellowship and a speaker, often a community leader with an update on themes of interest to the local communities or bearing on charitable activities that receive or seek Rotary support. We deliberate new ways to serve our community. We laugh. We re-examine ourselves at each weekly meeting, recalling the Rotary "Four Way Test" of the things we think or do:

Is it the truth?
Is it fair to all concerned?
Will it build good will and better friendships?
Will it be beneficial to all concerned?

We break up promptly after 90 minutes to enable our members to resume meeting their clients' needs and business responsibilities.
About Rotary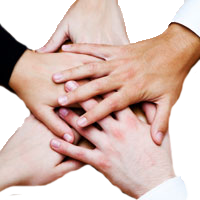 Rotary is a worldwide organization of business and professional leaders that provides humanitarian service, encourages high ethical standards in all vocations, and helps build goodwill and peace in the world. Approximately 1.2 million Rotarians belong to more than 32,000 clubs in more than 200 countries and geographical areas.
Members of a Rotary Club are part of a diverse group of professional leaders working to address various community and international service needs and to promote peace and understanding throughout the world.
Warren Summer Concert Series: Ross Griswold & The Second Line

@ Warren Municipal Pavilion Area
Jul 17 @ 7:00 pm

Warren Recreation's Summer Concert Series 2019
All concerts take place at the Warren Municipal Pavilion Area and start at 7 p.m.
Barbara Harris & Bob Marino (June 19, rain date June 20)
Barbara Harris, a native of Elizabeth City, N.C. began singing at an early age at the church in her neighborhood. In 1965, the hit "A Lover's Concerto" by The Toys went to number one on the billboard charts. Barbara appeared on TV's popular music shows, such as Dick Clark's "American Bandstand," "Shindig," and "Hullabaloo." Her strong lead vocals and dynamic stage presence always leaves audiences wanting more. Bob Marino has been performing for the past 25 years. His passion is singing the standards and popular Italian love songs. Barbara and Bob together perform  memorable songs in their show that will have you singing and dancing along. So come and join us for a night of nostalgic music and homemade gelato as the long awaited one of a kind AMA Gelato Mobile makes its debut.
Fabulous 50's Night featuring The Keynotes (June 26, rain date June 27)
Join us for a night of music from the Fabulous 50's; the era known for its classic cars, jukeboxes, drive-in movies and all time Rock-n-Roll!  Free food & refreshments compliments of Knights of Columbus. Sponsored by: Knights of Columbus.
Lost in Place (July 10, rain date July 11)
Celebrating their 21st year as a band, Lost In Place prides itself on faithfully reproducing the great songs of the 60's & 70's, with a few from the 80's and 90's, too.  Their 5 vocalists and 4 lead singers enable them to cover a wide variety of artists like: The Beatles, Santana, Eric Clapton, Pink Floyd, Led Zeppelin, the Doobie Brothers, CCR, CSN&Y, Foreigner, Queen, Tommy James, Robert Palmer, Stevie Wonder, James Brown, Prince, Genesis, Ace, Golden Earring, Soul Survivors, David Bowie, Edgar Winter, Joe Walsh, The Guess Who, The Stones, Cream, Badfinger, The Grassroots, Tom Cochran, Redbone, Eddie Money, Loverboy, Styx, Talking Heads, AC/DC … Bring your dancing shoes!
Ross Griswold & The Second Line (July 17, rain date July 18)
Ross Griswold & The Second Line's determination is to get you up and dancing!  Based in and around the Somerville area, their mix of New Orleans, Soul, Funk, and R&B spans genres and generations to bring you the best grooves. Classics from Stevie Wonder, Van Morrison, Bill Withers, Dr. John, The Meters, Professor Longhair and more will make the perfect soundtrack for a hip-shaking good time, so grab your friends and come on out!