Aug
21
Wed
2019
Fanwood-Scotch Plains Rotary Weekly Meeting

@ Stage House Restaurant
Aug 21 @ 12:15 pm – 1:15 pm
Join us any Wednesday for Lunch
At the Stage House Inn, Park Avenue, Scotch Plains
If you would like to make a difference in the community and learn more about Rotary, you can attend a Wednesday lunch meeting at 12:15 pm at the Stagehouse Restaurant in Scotch Plains.   For more information, you can visit their website at www.fsprotary.org or follow them on Facebook.
Luncheon, with fellowship and a speaker, often a community leader with an update on themes of interest to the local communities or bearing on charitable activities that receive or seek Rotary support. We deliberate new ways to serve our community. We laugh. We re-examine ourselves at each weekly meeting, recalling the Rotary "Four Way Test" of the things we think or do:

Is it the truth?
Is it fair to all concerned?
Will it build good will and better friendships?
Will it be beneficial to all concerned?

We break up promptly after 90 minutes to enable our members to resume meeting their clients' needs and business responsibilities.
About Rotary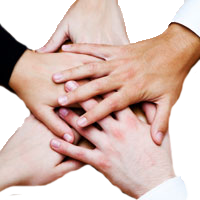 Rotary is a worldwide organization of business and professional leaders that provides humanitarian service, encourages high ethical standards in all vocations, and helps build goodwill and peace in the world. Approximately 1.2 million Rotarians belong to more than 32,000 clubs in more than 200 countries and geographical areas.
Members of a Rotary Club are part of a diverse group of professional leaders working to address various community and international service needs and to promote peace and understanding throughout the world.
Aug
22
Thu
2019
Rahway's Mayor Summer Concert Series

@ Union County Performing Arts Center
Aug 22 @ 7:30 pm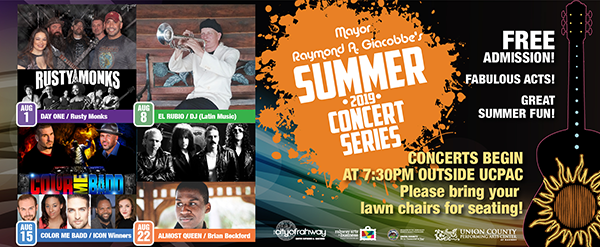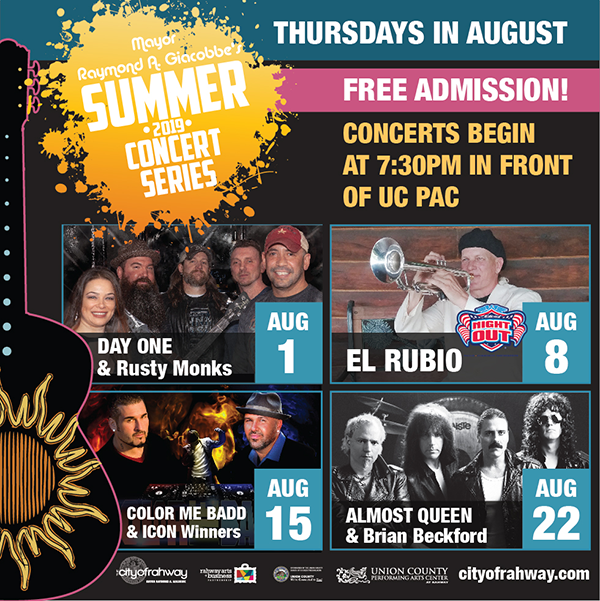 Mayor Raymond A. Giacobbe's Summer Concert Series
Make sure to come out for the City of Rahway's Summer Concert Series presented by Mayor Raymond Giacobbe. Thursdays in August are set to be full of music and great summer fun as local bands put on free performances.
Shows start at 7:30pm in front of the Union County Performing Arts Center
1601 Irving St, Rahway, NJ 07065
Aug
23
Fri
2019
Union County Performing Arts Center Presents "Out of the Woods"

@ Hamilton Stage
Aug 23 @ 8:00 pm – 10:30 pm

Out of The Woods' Performance to Benefit Inroads to Opportunities
Out of The Woods' Co-Production will benefit Union County Charity Inroads to Opportunities: a night of music featuring Bryan Hansen Band with Jared Milian and the cast members of UCPAC's production of Into the Woods! On Friday August 23rd, 2019. Doors open at 7 p.m. Performance begins at 8 p.m. Tickets are $22, purchase online: www.tinyurl.com/hamiltonstage2019
Inroads to Opportunities is a 501c3 not for profit organization located in Union County, New Jersey. Since 1959 they have provided vocational rehabilitation services to individuals with disabilities. Inroads to Opportunities works with 400+ people per year in their pursuit of employment, wellness and a life of independence. The charity owns and operates Railside Cafe in Fanwood, NJ. Its location is a competitive integrated environment for individuals with disabilities who want to learn how to work in the fast paced restaurant business.
Performers:
Bryan Hansen Band is a Funk, Blues, Alternative rock band from Central New Jersey. The band's latest album titled 'Gas Money,' is set to be released in the Fall of 2019. You can follow the Bryan Hansen Band on Facebook, Instagram, Twitter, and YouTube, as well as track them on the Bands In Town app, stream them on Spotify, and join their email list on their official site: www.bryanhansenband.com
ICON 2018 winner, Jared Milian, has chosen Into the Woods as his dream show. The wildly popular musical by Stephen Sondheim and James Lepine intertwines the plots of several Brothers Grimm and Charles Perrault fairy tales, exploring the consequences of the characters' wishes and quests. Jared will be playing the role of the Witch. http://www.ucpac.org/event/fce3e42c2118ba2567f8175f8b69d0f9